In yet another example of the cloud meeting 3D visualization capabilities and engineering workflow, little-known VisPower Technologies is touting TeamPlatform, its own version of how to help engineering-oriented companies facilitate product design collaboration.
In much the same genre as some of the other Web-based collaboration platforms we've recently written about, including the new Sunglass, TeamPlatform builds on the simplicity and accessibility promise of general-purpose, cloud-based collaboration tools like Google Docs or Dropbox, adding specific intelligence to handle 3D design data in addition to capabilities around project tracking. The team at VisPower Technologies sees TeamPlatform as a direct replacement for other, more traditional, engineering-oriented collaboration tools like Product Data Management (PDM) or Product Lifecycle Management (PLM), particularly for smaller companies that might not have the IT resources nor the budgets to adopt those more complex platforms.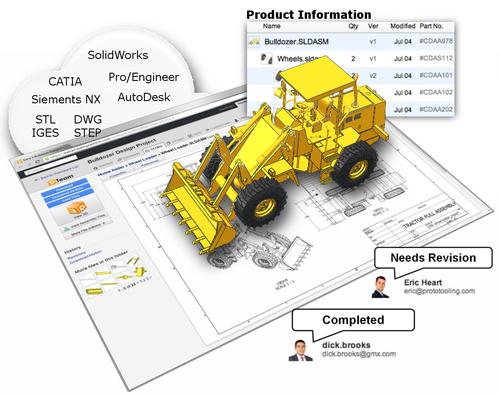 "Traditional PDM systems are great, but there's a tremendous amount of effort that goes into setting them up, and maintaining them is hard," Scott Anderson, VisPower's business development manager, told me. "They typically require a dedicated IT staff or a dedicated PDM manager, which removes their applicability for smaller companies."
That's not the case with TeamPlatform, which relies on the Web to deliver anytime/anywhere access to project data, including accessibility from mobile devices. The software platform can be tapped to conduct online previews of product designs, because it can handle all major 3D data formats, and can be used to preview streaming video along with capabilities for dispersed design team partners to annotate and comment on design works-in-progress in the context of specific files and projects.
Also unique to the platform is its task management and project management tools, which facilitate more organic stakeholder engagement rather than putting policies and rules around collaboration as do more expensive and complex PLM and Business Process Management (BPM) systems, Anderson says. Far-flung design partners simply set up a new workspace, where design-related data and materials are uploaded, and the platform's custom meta data capabilities ensure that files and 3D models can be found and shared easily.
As part of its focus on team collaboration, TeamPlatform enables engineering groups to configure the system as a so-called "white label" 3D CAD project collaboration portal, complete with the company's proper branding information, as well as incorporating any custom materials and forms that are relevant to a specific project, Anderson said.
Finally, price is yet another differentiator and potential benefit for the cost-conscious engineering group. TeamPlatform is offering a free plan, aimed at the individual, which gets you access to the platform's primary capabilities with a limit of up to 1 gigabyte of data. Advanced features and the ability to set up the white-label team domain can be had for $25 a month, per user.
Related posts: