PTC's Creo 3D design suite was critical to the iPec development effort. The software was instrumental for everything from formalizing the layout for the printed circuit board packaging to creating the organic shapes for the design, even down to employing FEA capabilities to explore the structural integrity of the device, Leydet told us.
Beyond 3D design tools, 3D printers are also making a mark on prosthetic design, among other medical applications. Most recently, there's the story of Emma Lavelle, a child born with arthrogryposis multiplex congenital (AMC), a non-progressive condition that causes still joints and underdeveloped muscles.
As Emma grew, her parents were determined to find her a way to play and interact like other kids her age, but she couldn't lift her arms. Her parents came across the Wilmington Robotic Exoskeleton (WREX), an assistive device made out of hinged bars and resistance bands, and hooked up with the researchers and doctors from
Nemours/Alfred I. duPoint Hospital for Children
in Wilmington, Del., to modify the device to meet the needs of the two-year-old, 25-pound Emma -- who was much smaller than most patients and not tied to a wheelchair.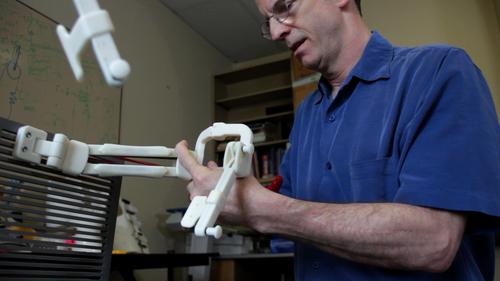 The design challenge in this case was one of scalability. The research team determined that its traditional CNC method of producing the WREX wouldn't work for Emma's version because of the small size and detail required. Alternatively, the team turned to a Stratasys Dimension 3D printer to construct a lightweight WREX, custom fit for Emma in ABS plastic, and able to be affixed to a small plastic vest.
Since being outfitted with her custom WREX prosthetic, what Emma affectionately calls her "magic arms," she has been able to play with toys, feed herself, and hug her family, just like other kids. For the research and medical team evolving the WREX, 3D printing and 3D CAD tools enable them to continually improve upon the device and make modifications as Emma and now an expanded contingent of other small patients grow in size.
"This is one of those industries that matches perfectly with 3D printing and additive manufacturing because we need custom everything," said Whitney Sample, one of the research design engineers who built Emma's WREX, in a video explaining the project. Sample and his team see 3D printing and 3D scanning as the future for custom prosthetics. "The ABS plastic is strong and durable enough to handle the abuse, and we can answer a need in a heartbeat," he said.
Related posts: