Electric vehicle (EV) battery development is hard, painstakingly slow work fraught with a multitude of design challenges, as my colleague Chuck Murray has so adeptly chronicled in the pages of Design News. His take on what's impeding EV battery development zeros in on a number of hurdles and complications, including combining and testing multiple materials and addressing the principles of thermodynamics. Even the battery experts Chuck has interviewed admit it is no easy task.
Recognizing the need and the opportunity, a number of CAE providers are bringing new simulation and analysis capabilities to bear to try to accelerate the development effort. CD-adapco, a major provider of CFD simulation tools for the automotive sector, is the latest player to get on board. It has released the STAR-CCM+ Battery Simulation Module, which is specifically designed to simulate spirally wound lithium-ion battery cells.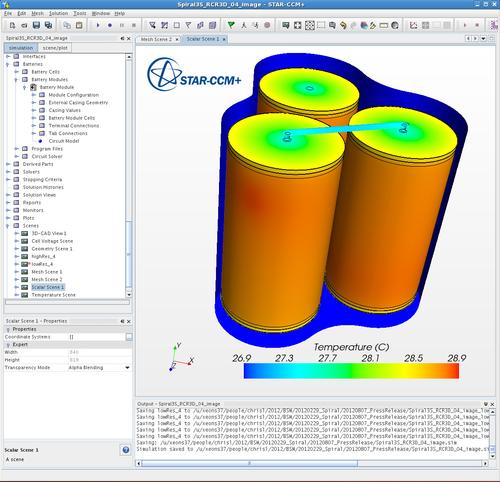 In August 2011, CD-adapco got together with Battery Design LLC, Johnson Controls, and A123 Systems to respond to a request for proposals by the Department of Energy's National Renewable Energy Laboratory. The request was part of the laboratory's Computer-Aided Engineering for Electric Drive Vehicle Batteries (CAEBAT) program, which seeks to proliferate simulation methods in the rapidly changing field of lithium-ion battery development. CD-adapco's simulation software technology was one of three chosen to support the CAEBAT program and its efforts to reduce petroleum consumption and greenhouse gas emissions.
Steve Hartridge, CD-adapco's director of electric and hybrid vehicles, told us that his company is trying to remove redundancies between simulation efforts done around electrochemistry composition and the complex vehicle models involved in designing cells and battery packs. By incorporating these new electrochemistry models into the mainstream STAR-CCM+ product, CD-adapco aims to help engineering teams leverage simulation to design cells and battery packs, shorten prototyping and manufacturing processes, improve overall battery performance, and reduce battery costs.
"We are trying to couple the actual chemistry to the environment that it sits in, and today there's a real lack of capabilities in that area," Hartridge said. "We want to allow development teams to include the detailed chemistry in the complex model to get a level of fidelity we feel is appropriate to get the right answer."
The STAR-CCM+ Battery Simulation Module is available as part of CD-adapco's commercial lineup. Of course, CD-adapco isn't the only simulation vendor addressing the lithium-ion battery challenge. We reported recently on the subcontract ANSYS received from General Motors to incorporate new and current battery models into its CAE software.
Related posts: