Alex Settles, lead design engineer at Ace Manufacturing, is by no means a social media guru, but he is no stranger to venues like LinkedIn and Facebook, which he frequents to catch up with friends or expand his network at work.
So when he was approached by Vuuch, a company looking to apply social media conventions to product development, he immediately saw potential in how tools like activity feeds and Facebook-like posts could address some of the communications problems dogging his company's engineering and design processes.
"Our biggest problem is around communication between production, engineering, and sales," Settles told us. "Engineering and production would go back and forth with the design, and in the end, it wouldn't be exactly what they wanted, so they'd have to start from scratch. When they called us about Vuuch, we had just had an issue where parts had been created, but production didn't let us know. It was a hot job, and it caused a lot of aggravation. I thought, 'This is something that could keep that from happening again.'"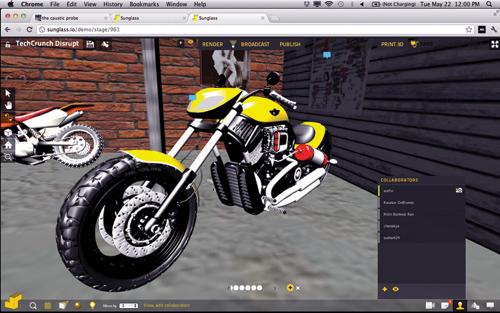 Though Settles easily recognizes how social functionality can facilitate a new level of product development collaboration, many engineering groups are still struggling to apply those concepts to a work environment. Rather than considering how social capabilities can advance the utility of traditional design tools and collaboration platforms, users are getting stuck on the idea of doing full-blown development work and CAD file sharing on public sites like Facebook -- a scenario that has little appeal to anyone involved in serious product development.
"There's a lot of confusion," David Blair, vice president of product management for PTC, told us in an interview. "People think anything attached to the word 'social' assumes that everything is happening in a public community site like Facebook or Twitter, which is wide open to the public with no security. That's not what we're doing."
Looking through the engineering lens
PTC is hardly the only one avoiding that approach. Its primary competitors in the CAD and PLM space, as well as startups like Vuuch and Sunglass, are starting to borrow the Web 2.0 capabilities that were popularized in the consumer world and adapting them for capabilities that make sense for product development systems.
Things like activity feeds (akin to a Facebook news feed) can keep people who are connected to a project up to date on status or design changes. Microblogging (along the lines of tweets) can be a short, targeted way to provide status updates or ask for feedback. Traditionally, this type of communication has been done mostly face to face (at small companies) or through email. Both methods can become cumbersome as the design project scales and teams start to encompass partners, suppliers, customers, and outside consultants.