Industry-tailored solutions are nothing new to the product lifecycle management (PLM) world. For years, PLM providers have been working hard to shed the original "tool kit" mentality associated with the platform, packaging up PLM technology along with customized templates and workflows to tune their solutions for solving industry-specific design problems right out of the box.
It looks as if Dassault Systèmes is taking the vertical approach a bit more seriously. As part of its evolving focus on 3D experience, not just 3D data, Dassault has just released the first of many new industry solutions, this one specifically to address key challenges in the automotive segment. 3D Experience, as Dassault officials explain it, is the idea of leveraging the company's 3D capabilities like simulation and high-end visualization functionality to communicate product data, not just as information, but in a more interactive and engaging way.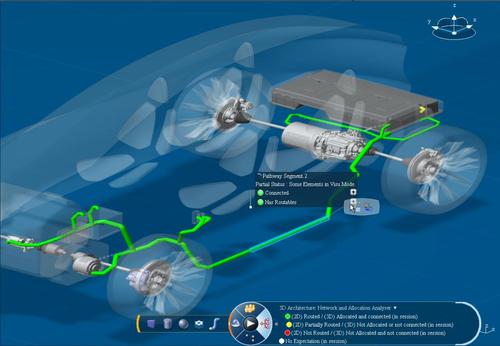 In that vein, the new "Smart, Safe & Connected" solution comprises multiple Dassault applications implemented in a modular fashion and focused specifically on early vehicle validation. The platform is intended to facilitate the management of vehicle complexity by uniting previously disconnected domain-specific tools on one platform -- the goal being to foster systems engineering, promote knowledge reuse, hit safety targets, and to reduce the time and money associated with developing embedded electronics, according to Dassault.
The focus on embedded systems reflects a key challenge for automotive OEMs and suppliers, given that electronics and software currently represent more than 80 percent of vehicle innovation, with much of that focused on active or passive safety, "infotainment," and performance. As an integrated platform for electronics, mechanical, software, and simulation development, the Smart, Safe & Connected solution also helps automotive OEMs deal with two other big challenges: compliance with the Automotive Open System Architecture (AUTOSAR), an open and standard platform for creating automotive embedded systems; and with the new ISO26262 electric and electronic functional safety standards, which require complete process documentation, analysis, and verification.
"We've done planes, trains, and automobiles for years," Mike LaLande, Dassault's industry business director, Transportation and Mobility, told us. "What we decided to do is understand what our customers value and then develop solutions specifically around those core values."
As a "solution experience," Smart, Safe & Connected follows the whole design process of a vehicle or subsystem, from market development and customer requirements all the way through maintenance and warranties, using the same set of data and leveraging core Dassault brands such as Enovia for data management, Simulia for simulation, and NetVibes, a social media tool that helps companies track what is said over the Web related to brand sentiment, product preferences, even rate of adoption.
Smart, Safe & Connected won't be the only industry solution targeted at the automotive space. Dassault plans to roll out four more solution experiences in this sector within the next 12 months, including one for green vehicle development, quality, modularity for leveraging IP globally within the enterprise, and styling and attractiveness, to help dealerships with their sales processes.
Related posts: