Which method is better -- parametric or direct modeling? It's been the longstanding debate in CAD circles, with parametric tools promising more intelligence and control over the process of building CAD models, while direct modelers claim an ease-of-use edge, allowing design concepts to flow right out of the gates without any constraints resulting from complex commands or a history tree.
For years, engineers had to consider the tradeoffs of each paradigm, choosing between them or using each tool on its own to support separate design workflows. The either/or scenario was turned on its head more recently as the leading CAD vendors realized there were merits to both modeling approaches. As a result, there's been a flood of new products, as well as new generations of veteran CAD tools that meld the best of both modeling approaches and, in the end, provide engineers with a more powerful and flexible array of offerings.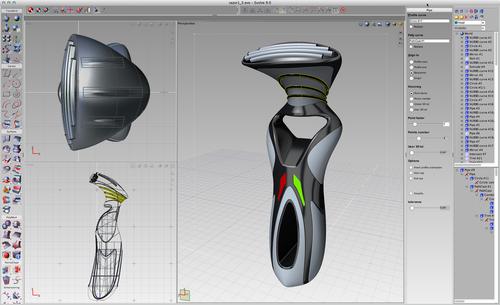 SolidThinking is one of the players long promoting a hybrid modeling approach. The company, which was acquired by Altair, a provider of high-end engineering and analysis software, back in 2008, recently advanced its hybrid modeling story with the release of solidThinking Evolve 9.0, the successor to its solidThinking 8.5 platform. The company touts the system for the early conceptual stage of design, allowing industrial designers or engineers to rapidly create organic surface or solid models while enabling the flexibility of parametric CAD modeling.
"Our approach for Evolve from day one has been based on hybrid modeling, taking parametric, history-based modeling and combining it with NURBS surface modeling," said Darren Chilton, program manager for solidThinking Evolve, in an interview.
Unlike other CAD programs that are trying to add or rework their platforms to incorporate both modeling approaches, Chilton claimed that solidThinking has an edge because it was architected to blend both technologies from the beginning. "Everything we develop has the hybrid approach in mind," he told us. "It's much easier if you start from ground zero and design something exactly to what you want, rather than take capabilities you already have and make them work together."
Chilton attributes the recent push to blend direct modeling and parametric modeling paradigms to a shift in the way products are developed today. He said it used to be that industrial design teams and engineering teams tended to their respective business in silos, using separate tools and coming together only much later in the process. Today, with time lines for product development being condensed and in the face of mounting cost pressures, he said there's a requirement for industrial design teams to work closer with engineering, hence the need to have one tool that satisfies both preferred ways of working.
With that in mind, the latest release of solidThinking Evolve 9.0 focuses primarily on enhancing the user experience and the accessibility of the environment. There are many improvements around workflow, allowing multiple modeling operations to be completed in a single function. In addition, an improved user interface enhances visualization and communications functionality, including more flexible object naming, flags for indicating features that may need repair, and a "smart delete" feature for hiding and unhiding source objects when deleting items. New interactive rendering functions for improving the ability to control multiple textures and materials along with improvements to the basic modeling kernel for better interoperability with other CAD packages round out the new features of the release.
Related posts: