Siemens PLM Software, one of the leaders in the full-scale PLM space with its Teamcenter offering, just announced a new product called Insight XT, which builds on the capabilities of Insight, a free data management add-on for its Solid Edge CAD platform. Due to ship in August, the platform promises additional data management functionality for users working with Solid Edge CAD files, including easy vaulting and retrieval of those CAD files and related design data, along with new capabilities related to projects, tasks, and change management.
Like its predecessor, Insight XT is based on Microsoft SharePoint, a collaboration platform used extensively in the corporate enterprise (not just in engineering groups) and with which Siemens has been working for more than 10 years. With the Insight XT release, Siemens is delivering new part, product, and project structures that are required by engineering and manufacturing organizations, but aren't readily available in standard SharePoint document libraries, according to Siemens officials.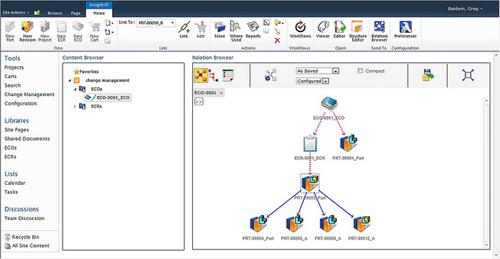 Karsten Newbury, Siemens' vice president of mainstream engineering, said in a press release:
The volume of associated design data continues to expand, and mainstream manufacturers are under great pressure to affordably manage this increasing data and often struggle with the complexities of data management solutions. XT... helps increase efficiency and allows mainstream manufacturers to have full control of their data and intellectual property.
The software's new visual approach to displaying data relationships and associated tasks will enable users to quickly understand the impact of proposed design changes, officials said. However, for companies requiring multi-CAD capabilities and engineering process data management, Siemens executives said Teamcenter and potentially Teamcenter Express remain more fully functional PLM options.