Product Lifecycle Management (PLM) is essentially a process-based system, and perhaps that's why it often lands on the radar screen of enterprise-level executives and IT practitioners but isn't of much interest to individual engineers.
Nonetheless, PLM -- in its ideal form -- should be an essential piece of most organizations' product development strategies. With that in mind, startup Kenesto is vying to be the non-PLM, process automation system that engineering organizations will embrace mostly because of what its developers and marketing gurus say is a "maniacal" focus on simplicity.
"There's been a mismatch between the cost, complexity, and rigidity of typical process systems exemplified by PLM," Alex Neihaus, Kenesto's vice president of marketing, told us. "People run into road blocks and they can't get the (PLM) systems to do what they want so they revert back to email and paper-based processes."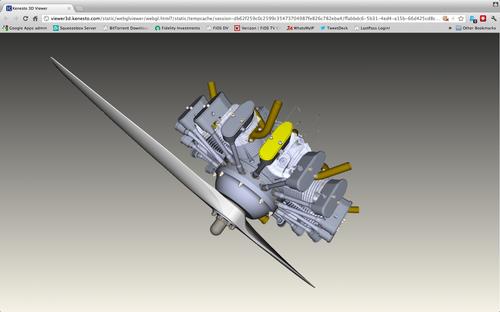 Kenesto 2012, now generally available, aims to blend simplicity with a cloud-based approach to circumvent some of those familiar road blocks. Via use of familiar metaphors like attachments and email-like conventions, the platform allows engineering teams to route drawings and documents, create and circulate RFQs (request for quotes), interact with external suppliers, and populate bills of materials, all without any behind-the-scenes programming. The system is particularly compelling for organizations that have been chained to paper-based processes because they didn't see the appeal of existing, often hard-to-implement PLM platforms, Neihaus said.
Kenesto 2012 offers all of the features previously available in the beta release, including zero client installation, a browser-based process creation environment, and automatic generation and execution of processes. Based on feedback from the Kenesto beta program, the general release adds a few additional capabilities, including:
Integrated forms. This capability allows users to easily transform paper-based processes into Kenesto processes directly from within the browser. Kenesto forms remain with the process, unlike paper-based forms, and are searchable and access-controlled.
Enhanced reporting. To aid managers in making crucial product development and supply chain-related decisions, Kenesto 2012 incorporates a range of reports to give managers visibility into a company's processes. Among the standard reports included with the system are Activities by Users, Process Throughput, Process by Time, and Process Steps by Time. Neihaus said the report piece of Kenesto is a moving target and additional reports will be added over time.
3D-viewing of parts and video. While Kenesto deals with the behind-the-scenes process capabilities of product development, there remains the requirement to attach digital and visual product information to the process. Leveraging visualization technology from Tecsoft, Kenesto 2012 builds on the beta release's ability to view formats like Microsoft Office documents and Autodesk DWG files with new 3D viewing of many 3D parts files, in addition to SolidWorks assemblies as well as .mp4 and .wmv video formats. The video formats, in particular, can be useful for incorporating animations and product assembly instructions as part of the process. All files are rendered in a browser without any installation of client software.
Related posts: