One of the strongest influences helping to promote more accessible 3D printing is the open-source movement. The RepRap project was the genesis for a number of low-cost printer kits, including the now fairly well known Makerbot. Now there's a new kid in town: the Bukobot, which its developers characterize as a next-generation, open-source, 3D printer.
Diego Porqueras, of Pasadena, Calif., is positioning his entry into the open-source 3D printer world as addressing two of the more common problems: ease of use/assembly and scalability. Unlike other open-source 3D printers based on the RepRap project, which can be difficult to assemble, Porqueras says the Bukobot (watch a video below) has been designed with a framework that requires no special machining or heavy adjustments of rods and acrylic, but rather can be put together with simple tools found around the house -- screw drivers, utility knifes, and a set of needle nose pliers.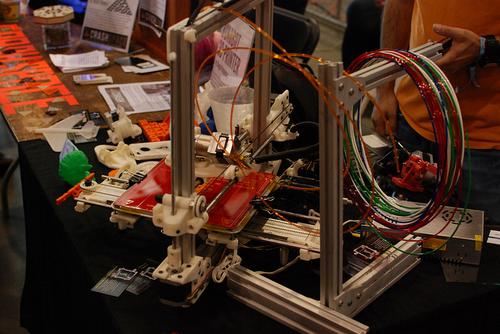 Porqueras says one of the hurdles associated with first-generation, open-source 3D printer kits is the requirement for expensive and hard-to-find laser cut pieces and machined parts. "I believe most people do not have access to a laser cutter or machine shop, so I eliminated this need in the design of the Buko framework," Porqueras explains on his Website. "If it can't be printed in 3D, bought off the shelf, or made at home with simple tools, it's not in the design."
The Bukobot also pushes past RepRap models in its expandability. While 3D printers based on the original open-source model are hard to scale to handle bigger, or so-called higher, print jobs, Bukobot's developers say the system is easily upgradable, requiring only the addition of longer pieces of aluminum extrusions, longer cables and belts, and maybe even some simple electronics.
Porqueras's company, Deezmaker, is positioning the Bukobot as a low-cost tool (it's even gone as far to call it a "personal manufacturing system") for hobbyists and engineers looking to do everything from creating fun sculptures and toys to more serious applications like prototyping parts and 3D-printing common parts for fixing household items. The printer comes in two build sizes: 8-inch models with an 8x8x8-inch (200x200x200mm) build envelope or a smaller, miniaturized model, which has a print volume of around 5x5x6 inches (125x125x150mm). In addition to ABS plastic, the green version of the Bukobot works with PLA, a type of plastic made from corn starch that is biodegradable and harder than ABS, Porqueras claims, while also not requiring a heated platform to make 3D parts.
Prices for the printer start around $750, but Porqueras says he's looking to push the costs down even further.
Another 3D printer making its mark in the open-source world and breaking down price barriers is the Solidoodle, a pre-assembled unit that looks more like a commercial product and less of a project. The Solidoodle, created by a former Makerbot executive, is based on the RepRap Sanguinololu v1.3a Electronics open-source 3D printer project and is priced starting at $499.
Related posts: