With more than 20 acquisitions under its belt in the last couple of years, it's hard to keep up with where 3D printing giant 3D Systems is heading. Its latest acquisition, of Bespoke Innovations Inc., is steering it once again into totally new territory -- this time, toward individualized medical devices.
Bespoke designs and manufactures Fairings, essentially specialized coverings that surround an existing prosthetic leg to give amputees a better sense of self by restoring their body symmetry and creating a personalized, customized prosthetic that reflects their personality. The key to Bespoke's Fairings is a design process that leverages 3D scanning and 3D printing to facilitate an individualized design and manufacturing process instead of the one-size-fits-all approach embraced by most medical device companies in the business of making prosthetics.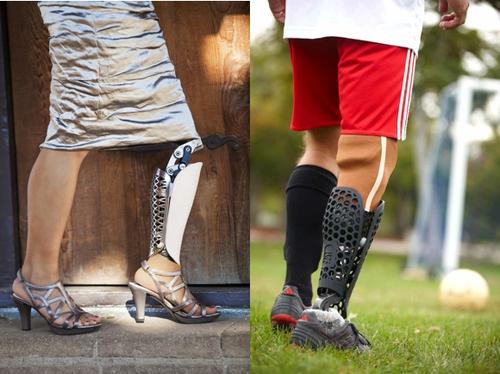 That's presumably where 3D Systems' interest comes in. The company plans to integrate the Bespoke technology into its healthcare solutions services product family, while also leveraging the firm's integrated scan, design, and print technology and expertise to commercialize a full range of prosthetics, orthotics, and orthopedics. 3D Systems' healthcare division already leverages 3D printing for creating medical models, hearing aids, implantable devices, as well as for dental applications.
Abe Reichental, 3D Systems' president and CEO, said in a press release:
Bespoke products can deliver extraordinary individualization and style to an underserved audience through its extraordinary designs and proprietary scan-to-print technology. We plan to fast-track additional Bespoke products to market and to enhance their affordability and availability through our technology and manufacturing infrastructure.
Currently, Bespoke only uses 3D printing to create the outer moldings or the Fairings, using lightweight and durable polymer materials. However, thanks to 3D Systems' "fast-track" approach and some R&D muscle, officials say to expect to see prosthetics that are fully created using 3D printing technology.
Individualized medical devices is the latest terrain 3D Systems hopes to conquer with 3D printing. The company has made a series of acquisitions in the last two years, several of which are designed to help 3D printing break out of its high-end niche. Specifically, 3D Systems' acquisitions of My Robot Nation, a platform that enables a game-like experience for creating 3D content to be 3D printed, and Bits from Bytes, a maker of a RapMan 3D printer kit, are two such efforts designed to make 3D printing more accessible to a mainstream audience.
Related posts: