We've had our share of up-and-comers burst on to the design tool scene and bluster about how they're going to shake up the CAD space. The latest upstart, Sunglass, is touting a cloud-based collaboration environment built around the premise of 3D modeling.
Claiming that the $10 billion CAD industry is dominated by "antiquated and expensive software suites that restrict collective innovation," Sunglass is pushing all the latest technology hot buttons. It says its community opens doors to more social product development, and Nitin Rao and Kaustuv DeBiswas, its founders, say the approach mimics what's happening in today's "flat global economy," with partners anywhere around the world collaborating at any time.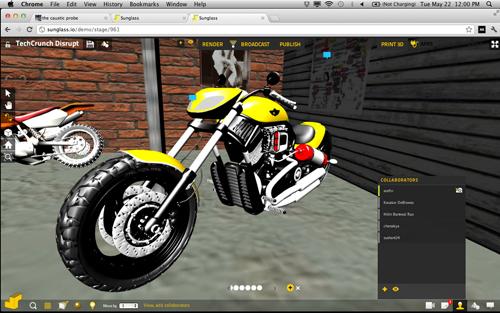 Rao and DeBiswas liken their new offering to a Google Docs for 3D objects. They said that, despite all the talk over the last couple of years about democratizing access to 3D design functionality, most people are still using expensive CAD software and are tied to their desktops. "It remains a paradigm of individuals working one by one," Rao told us, "with individuals working as silos and not in a collaborative fashion."
The Web-based design service is aimed at professional engineers, architects, and designers. The founders say they initially see it appealing to individual practitioners looking for an easy, cost-effective way to share files. Taking a page from Salesforce.com (the SaaS-based CRM product often credited with launching the cloud revolution in the mainstream IT world), Sunglass is pitching its community as an open environment and making its API available to developers. It hopes devlopers will build out an ecosystem of add-ons to enhance the core collaboration capabilities of the service. The base service is currently available for free, and Rao said add-ons apps are expected to be priced at around $25 or less.
With Sunglass, users share 3D files as easily as dragging and dropping a model in any file format on to something called the Sunglass Stage. (Rao says the community supports more than 40 of the most popular 3D file formats, including most mainstream CAD products.) Once the models are on the Stage, the social design aspect takes over. Collaborators can simultaneously edit 3D models and give real-time feedback through a chat tool (a sort of instant messaging function) or by making a call through voice chat. The Stage also has a sketch tool for marking changes. To facilitate the sharing aspect of collaboration, Sunglass Player transforms hefty 3D models into links that can be shared anywhere on the Web -- much like sending someone a link to a YouTube video.
The founders also discussed how gaming influenced the development of their service. "Gaming is a shining example of taking advantage of a massively parallel environment, and we have an opportunity as an industry to learn from gaming in terms of fidelity and in terms of our ability to collaborate," Rao said.
Related posts: