Sustainability's "Carrot and Stick Approach" Sarah Krasley, program manager for sustainable manufacturing at Autodesk, refers to it as the "carrot and stick" approach to sustainability and admits right now, it's the stick around compliance that is getting more engineers to take note.
"What's more mighty, the carrot or stick? Frankly, we don't care," Krasley said. "There's a lot of work to be done and I don't care if it's regulatory pressure or just that companies want to market a product with eco-design parameters."
Either way, Krasley said Autodesk is definitely seeing an uptick in interest in embracing sustainable design practices. The company's 2009 Sustainable Design Trend Watch survey of 3,000 working engineers and 1,400 students, done in partnership with the American Society of Mechanical Engineers (ASME), found that nearly two-thirds (roughly 67 percent) of working respondents were extremely involved or somewhat involved with sustainability or sustainable technologies. The most common sustainable technologies: designs that use less energy, reduce emissions, and comply with environmental standards and regulations, according to the survey's findings.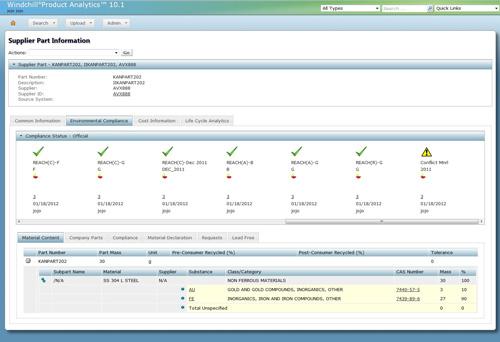 What was even more revealing, according to Krasley, is that three-quarters of working respondents address sustainability in the conceptual phase of design, with half looking at the requirement during the materials selection phase of their workflow. "Any company that is not doing something in this space has their head in the sand," Krasley said.
Luckily, CAD, PLM, and other design tool vendors have substantial efforts underway to make it easier for companies that have been avoiding the issue to take productive steps toward more sustainable design. CAD vendors, for example, have bulked up the simulation portion of their tools, making it easier for engineers to do their own finite element analysis (FEA) testing to streamline materials and take weight out of their designs. Others, like PTC and Autodesk, have coupled dashboard and analytics capabilities with their CAD and PLM portfolios, allowing engineers to evaluate a CAD model based on numerous environmental factors such as carbon or water impact. Finally, PLM vendors have also added compliance capabilities to their core platforms, helping companies better manage and track a product design in relation to adherence to regulatory directives like RoHS (Restriction of Hazardous Substances), REACH (Registration, Evaluation, Authorization, and Restriction of Chemical substances), and newer initiatives such as Conflict Minerals.