There's no doubt the engineering crew at Hydrovolts has sustainability on its mind. The Washington-based company builds portable hydro power turbines designed to turn the overlooked global resource of big irrigation canals into a power source for developed and developing countries alike.
At this early stage in the game, though, fine tuning the performance of the turbine is still the primary design goal for the upstart development team. Yet, as the turbine gets closer to becoming a commercialized product, the team is increasingly focused on environmental optimization of materials and manufacturing practices. Rather than promote sustainability as an entirely new design charter, however, Hydrovolts founder and CEO Burt Hamner views the direction as just another core tenet of good R&D practices.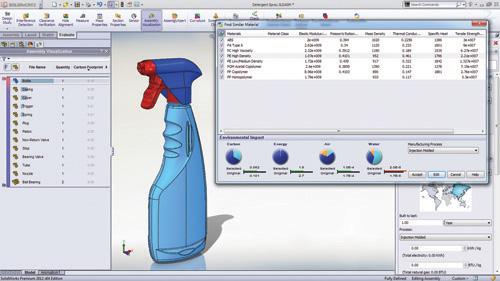 Hamner said:
I'm not asking my engineers to be anything other than a good engineer -- I have no intentions of making them environmentalists. If I can give them the tools that are practical and integrated with their daily operations so they can make environmentally better choices, great. Then they'll make those choices because they can see the data -- I don't have to change their belief system in order to make them green designers.
With all the hoopla over sustainability and amidst consumers' increasing demands for greener products, engineers across all industries -- not just those squarely in the so-called green space -- are feeling the heat to make sustainability a key design objective as they either rework or reinvent products. But architecting a product with an eye toward more environmentally-friendly materials choices or end-of-life recyclability is not a slam dunk for engineers, many of whom still find these concepts relatively foreign and for whatever personal or cultural reasons, have not fully embraced the value proposition of greener product development.
Nevertheless, customer requirements, coupled with a growing litany of government regulations both in the US and overseas -- is forcing engineering departments to make some radical changes to their product design processes to address sustainability. For some, it's simply a matter of doing a better job of working with an extended supply chain to manage and track all of the parts and substances that go into their products and related manufacturing processes. For others, it's a far more proactive approach of examining their product through a full lifecycle lens, zeroing in on any and all aspects where even the smallest design change can spark the greatest environmental impact.