What happens when you mix robots, 3D printing, and recyclability? You get Dirk Vander Kooij, a Dutch designer who has created a 3D-printer robot along with a process for designing and printing award-winning furniture.
According to his Website and industry reports, Kooij got his hands on an old industrial robot from China, which he reprogrammed and modified on his own, essentially transforming it into a 3D printer of sorts. The material for his self-constructed printing machine is a plastic that is the end product of recycling refrigerator interiors. Working off 3D CAD files of Kooij's designs, the self-made 3D printer extrudes the recycled plastic into modern furniture in a continuous back-and-forth movement, much like piping icing on a cake, until the furniture shape is formed.
The story is that Kooij cranked out 54 prototypes of the Endless chair before he perfected the lines and curves and created something that was comfortable enough to sit in. Now, a couple of years into the process, Kooij has fine tuned his furniture printing effort so that he can pump out rocking chairs or tables in just about three hours. He can even apply colors, allowing him to customize his furniture to his or his customers' liking.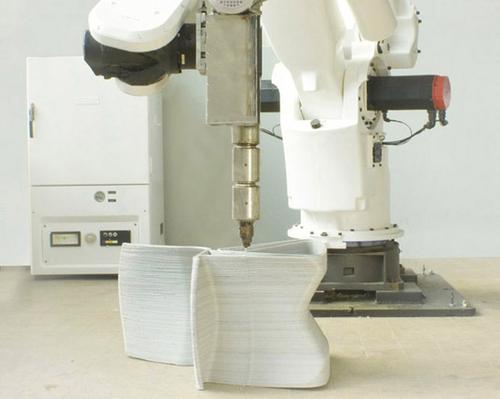 The furniture line, dubbed Endless because of the continuous movement of the robot piping out the plastic ropes, has won all kinds of accolades and design awards in Europe, and it is generating lots of press, in part because of the enthusiasm around the unique approach to 3D printing. (The video on the next page shows Kooij's process from the earliest stage of recycling refrigerator plastic to exactly how his self-made robot turns a continuous stream of plastic coils into artful furniture.)
What the Kooij effort showcases, along with some other recent developments in the consumer space, is how 3D printing is becoming a more familiar part of the mainstream zeitgeist. It also highlights the fact that cheaper, more accessible 3D printing and 3D CAD and content creation tools and services are allowing mainstream folks to crank out their own custom designs, whether they be jewelry or mechanical parts. According to industry watchers and companies promoting 3D printing technologies, the trend is toward a novel delivery paradigm where 3D CAD models of mainstream products and innovations are readily available for download on the Web. This lets individuals output, for example, replacement parts for appliances at will, along with custom jewelry and novelties.