A look in the Apple or Android App stores showcases a plethora of choices for engineers. Along with tools like Autodesk's SketchBook and Dassault Systèmes' Natural Sketch for early conceptual ideation, there are dozens of highly specific utilities, including CompCalc's multi-purpose calculator and tape-roll adding machine, Inforbix's engineering search data tool, and Krueger Systems' iCircuit app for simulating analog and digital circuits.
For PTC, which is currently readying a pair of mobile apps for release later this year, the strategy is all about providing task-focused tools that can help users be more productive when they are on the road, according to Steve Prideaux-Ghee, PTC's vice president of product definition. Not every tool makes sense for mobile, he says, and the trick is to avoid peppering the market with useless apps that are downloaded, used once, then never tapped again. "In terms of design apps, we are thinking of pretty task-focused apps for something engineers do every day. There's only a small number that will be useful."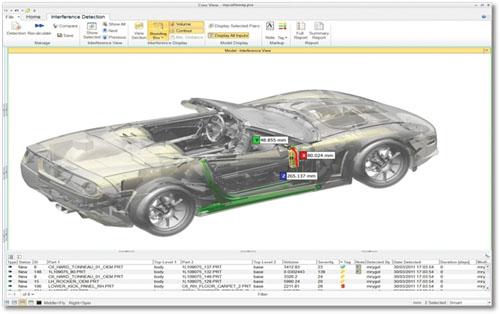 In that vein, PTC is planning to release a mobile app around Windchill, its core PLM platform, which will let users monitor projects, access product data, and coordinate tasks from their mobile devices. Creo View, an app for 3D visualization, will also be released later this year. Creo View presents highly compressed versions of Pro/Engineer 3D CAD data, which, while not geometrically accurate, allows users to interact with the model, view it to see its shape and form, and display parts in context for more effective and convenient collaboration.
The future of mobile
There's plenty of room to move beyond basic viewing and markup. Tablets and smartphones offer capabilities like GPS tracking, accelerometers, video capabilities, and voice that are either not available on high-end workstations and laptops or just not as accessible. Leveraging those capabilities opens up a range of unique possibilities for mobile design tool apps that can facilitate monitoring quality on the production floor, for example, or help engineers and technicians digest complex assembly instructions in a more visual and, thus, more intuitive way.
Exploiting the unique capabilities of tablets and smartphones goes right to the heart of IMSI/Design's mobile strategy, which is a critical direction for the CAD maker going forward, says Doug Cochran, the company's chief technology officer. The company has already rolled out a free 2D and 3D wire frame viewer app called Turbo Viewer, in addition to a professional version, priced at $24 for Apple iOS and $9 for Android. It's packed with more features and better CAD interoperability in addition to an SDK, on which it hopes other companies will build vertical mobile design tool apps based on its viewing technology. From there, IMSI/Design plans to roll out a series of mobile apps designed to bring efficiencies to field work by leveraging many of the features specific to tablets, including accelerometers, GPS, and built-in high-end video.