While those hesitations certainly have merit, CAD and design tool vendors jumping into the new frontier of mobile apps claim there's little to be concerned about. They say engineers' reticence is really tied more to a general lack of understanding of the new technology and what is still a very immature and emerging market.
"It really boils down to a lack of information," Amar Hanspal, senior vice president for Autodesk's Information Modeling and Platform Products group, told us. "People may not realize that these things are more capable than they perceive them to be. Sure, you can play Angry Birds on your mobile phone, but the device is capable of doing a lot more than that."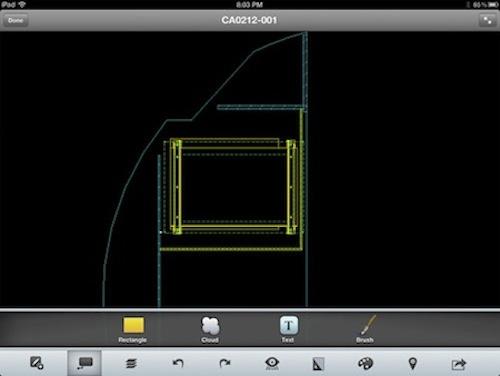 Consumption and collaboration
So what exactly is an iPhone, Android, or Windows tablet capable of when it comes to serious engineering work? As it turns out, right now, the devices still lend themselves best to the consumption and collaboration around engineering data, not necessarily for the creation of complex 3D CAD models. CAD specialists toiling away on constructing 3D parts and assemblies are still going to want the luxury of a large monitor (sometimes two), a mouse, and a keyboard to perform the complex tasks related to extruding surfaces, creating fillets, or modifying geometry.
But, as it turns out, dedicated CAD work is only one aspect of engineering, and as experts contend, only a small part of the workflow around product design and development. There are many constituents involved in the product development process who are not CAD specialists, and who live outside of engineering and need fast and easy access to core design data, whether they're in the office, offsite with a client, or commuting on the train.
"Not all engineering activities make sense to migrate to a mobile device," says Laurent Bernadin, executive vice president of chief scientists at Maplesoft, which markets the Maple mathematical computing software, now offered in an app form for the Apple iPad. "If you have designers sitting in front of a CAD system doing detailed design of a product that involves tens or thousands of parts, they will probably never do that on a phone. But there are a lot of tasks that can be taken on the road, and beyond that, there are activities you didn't really have computer support for before that are now becoming possible."
With tools like Maple Player for the iPad or Autodesk's AutoCAD WS, on-the-go engineers and other professionals can have easy access to product data, not to mention the ability to take the design with them for more effective collaboration with peers. As such, mobile design tool apps delivering capabilities for 3D visualization and viewing, basic markup, and conceptual sketching and ideation are natural targets for mobile platforms, as are any number of highly targeted technical calculators, reference tools, or industry- and domain-specific engineering utilities.