In addition to the single virtual model, the Prodrive team wanted to build a full physical mockup in parallel so it could spend time refining the areas that were most likely to cause problems.
That's where additive manufacturing came in. The team brought in a Stratasys Dimensions 1200ES 3D printer, and, in phase one of its implementation, put it through its paces to test surrogate parts.
After a team member accidentally dropped a 3D printed gear box and it "bounced across the workshop" and didn't break, it became pretty clear that additive manufacturing technology could serve a much greater role, according to Doe. Specifically, the team moved into phase two of deployment, using the Dimension 3D printer to create some test parts that were actually fit onto the car to prove out the design prior to investing in expensive tooling.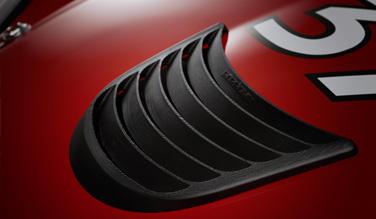 "This allowed us to take more risk," Doe said. "It allowed us to prove out a concept by running a part for a couple of days and determining whether the performance was good enough to invest in tooling. We were able to go through a lot of iterations quickly and thus go through the development cycle much faster."
Eventually, during the course of the WRC's two-year development cycle, the Prodrive team was able to shift into phase three of its 3D printing deployment. Thanks to decreasing costs of 3D printers and the higher performance of available materials, the WRC team was able to deploy additive manufacturing technologies to create end-use parts for the finished car. Currently, Doe says more than 20 parts on the finished car are 3D-printed, including an ergonomically styled gearshift display and control panel which are mounted on the steering column.
"3D printing has created opportunities to innovate that were previously considered a dead end without a significant investment in tooling, and has freed our team from the constraints that are applied when manufacturing by more traditional production methods," Doe said. "The simplicity of 3D printing combined with the relatively low-cost of materials make it the obvious choice for manufacturing parts."
Related posts: