If there was ever any doubt that Autodesk sees the cloud as its future, that was put to rest when the CAD giant unveiled its new product line -- the Autodesk 2013 Software Portfolio for Manufacturers, which encompasses its Product Design Suite and its Factory Design Suite.
Speaking to attendees during Media Summit 2012, Autodesk President and CEO Carl Bass said the industry is at a critical juncture as the entire computing landscape is being redefined. More so than the shift from mainframes to PCs and workstations, he said the transition to the cloud is the most important change in modern computing history. "There's a fundamental shift in the way people do engineering and design work, and the way they create and consume engineering and design data," Bass said in his presentation.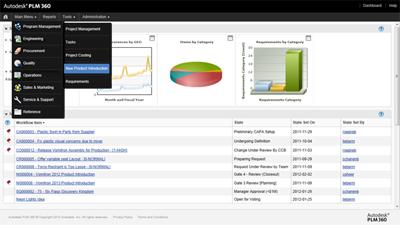 Just five years ago, when the world was PC-centric, engineers would email models and documents around and have no problem saying things like "I'll get you that file when I get back to the office," Bass said. That is no longer the case when nearly every engineer has some sort of mobile device, be it a smartphone or tablet, and is more frequently working outside of the office or away from his workstation. "There's a big change in the computing landscape where the platform becomes one of mobile, social, and the cloud," Bass said.
To that end, Autodesk has been steadily rearchitecting its product suite to support cloud services, as well as to introduce a range of new mobile design tool apps. While the company still has only a handful of cloud-based offerings, Bass ticked off some figures that he hoped would demonstrate the potential impact. In its nearly 30 years in business, Autodesk has amassed a user base of around 12 million legal users of its traditional licensed software; in the two years since the cloud-based AutoCAD WS service became available, nearly 7 million users have downloaded the tool on the Web or from Android and iOS devices. SketchBook, another cloud-based service for 2D and 3D conceptual design, has logged 10 million downloads to date in the two years since it's been released.