In an effort to make its all-purpose mathematical calculation tool a staple of toolboxes for the broader engineering population, PTC has released a major upgrade that focuses on enhancing the collaboration capabilities while integrating the tool more fully into mainstream engineering workflows.
Mathcad, which PTC acquired in 2006, was released in a wholly new form last year. As we reported, Prime 1.0 came complete with a revamped focus on open architecture and usability, including a tasked-based user interface. The release did tons to enhance the personal productivity of individual engineers making complex calculations. But Mark Walker, director of product strategy for Mathcad, told us that PTC saw an opportunity to build on the enhancements by making it easier for engineers to share the results of those calculations.
"The primary and tactical goal of every engineer is to get a good [calculation] result, but if you can't tell anyone what happened with your result, you're limited," Walker said. "Collaboration and communication is extremely important when it comes to engineering calculations."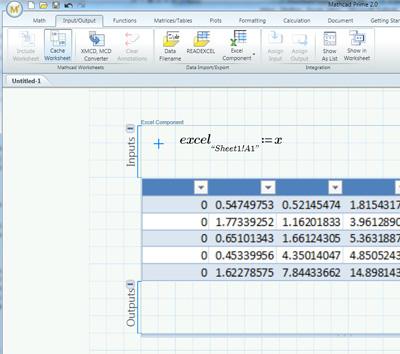 With that in mind, PTC put its muscle into improving that particular aspect in the Prime 2.0 release. One major new feature is the collapsible areas, which give users more control over their workspace by collapsing (or placing out of view) details that aren't essential at the moment. Engineers can shield some of the more nitty-gritty calculation details from coworkers, many of whom don't necessarily need access to that granular information and may be confused by that level of detail.
"This helps users organize their calculations better by letting them choose what to show at which time," Walker said. "This makes it easier for the calculations to be read by someone else, letting the reader shift focus to summaries or to look at detail when they want to."
Another feature Walker highlighted was a component that ushers in greater integration with Excel. The ubiquitous Microsoft tool is still used universally for some engineering calculation work, so PTC built what it calls a seamless integration capability between Mathcad Prime and Excel, allowing users to access and utilize data from spreadsheets and eliminating the need to convert data when switching over to Mathcad. Essentially, users can see a fragment of a spreadsheet as a table set up within a Mathcad worksheet, and they can pass values back and forth -- a set of capabilities Walker said speaks to PTC's strategy of co-existence.
"We acknowledge that a lot of calculations are done with Excel," he said. "Instead of making the proposition that users move those calculations to Mathcad, we're saying exploit the best of both worlds and take the IP locked in Excel worksheets and use it seamlessly in Mathcad."
Related posts: