Veteran CAD and PLM vendor Dassault Systèmes made a recent acquisition that's bound to confuse a lot of traditional engineers still scratching their heads over where the Web and social media fit into the product development equation.
For an estimated $26 million, Dassault snapped up Netvibes, which markets what's billed as sentiment analytics technology that large companies like Coca-Cola and the US Department of Energy use to track their social media presence throughout the real-time Web. Simply put, what Netvibes does is create a real-time dashboard that serves up intel on customer sentiment related to brand image, product preference, and even rate of adoption.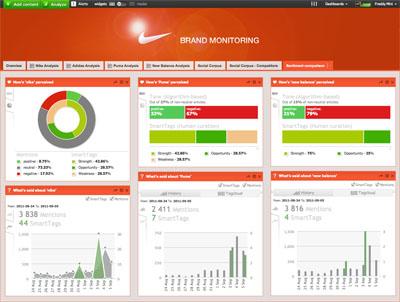 Newly appointed executive vice president for Industry, Marketing, and Corporate Communications Monica Menghini put it this way in her explanation of what Netvibes technology actually does:
Netvibes is a social intelligence platform that enables you to have a snapshot view of any information you might want. As part of Dassault, it will allow marketers to connect what consumers are saying about a product directly to the design process or engineers to have an intelligent cockpit of information, from technical to consumer-oriented. This synchronization of those outside of an organization (namely, consumers) and those inside (across all departments) ultimately leads to better products that can be brought to market faster.
Finally, something to connect this amorphous social intelligence thing to something concrete related to Dassault's bread and butter -- 3D engineering applications. Menghini and Dassault's top dog and visionary, Bernard Charlès, positioned Netvibes as one of the pieces of its newly dubbed 3D Experience platform. This is its vision for the post-PLM era where designers, engineers, marketing managers, and consumers connect in a new social enterprise where they deliver "experiences" to consumers as part of their continuous innovation.



More Blogs from CAD/CAM Corner
3D visualization is helping us express information in a way that's more informative and easier to decipher.
Using the Windows Phone App Studio, users can create Windows phone apps simply using their IE10 browser.

4
At the Open Hardware Summit, we saw that MathWorks' Simulink allows you to debug your model (embedded software) before deploying it onto hardware.

3
BlinkScan's software makes the latest desktop scanner stand out. Unlike other scanners, this one can crop and straighten images of documents automatically.
The video card wars are heating up once again between NVIDIA and AMD, with no signs of slowing anytime soon.


LATEST ARCHIVED BROADCAST
For industrial control applications, or even a simple assembly line, that machine can go almost 24/7 without a break. But what happens when the task is a little more complex? That's where the "smart" machine would come in. The smart machine is one that has some simple (or complex in some cases) processing capability to be able to adapt to changing conditions. Such machines are suited for a host of applications, including automotive, aerospace, defense, medical, computers and electronics, telecommunications, consumer goods, and so on. This discussion will examine what's possible with smart machines, and what tradeoffs need to be made to implement such a solution.



Datasheets.com Parts Search
185 million searchable parts
(please enter a part number or hit search to begin)