In partnership with Lego Group, Autodesk showed off a proof-of-concept iPad app powered by its Inventor Publisher Mobile Viewer -- and aimed at kids -- at the recent Lego World 2012 show in Copenhagen.
Attendees were able to use the app as an alternative to the traditional instruction manual for Brickley, Lego's popular dragon kit. Users can view interactive 3D-animated instructions on how to assemble Brickley. They can zoom in on parts and rotate models to see how things fit together.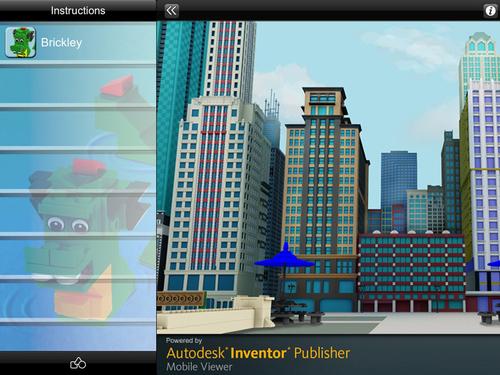 Having spent hours poring over confusing instruction manuals for Lego's Harry Potter play sets, I can tell you that an animated, interactive set of instructions can really speed things up. And we're not just talking about iPads and instruction manuals for toy sets. Sure, Autodesk is bound to get a lot of mileage out of this partnership, but it's really doing companies a service by shining the spotlight on a critical but often overlooked component of product development.
Beyond the cool factor, Autodesk officials ticked off a bunch of statistics to underscore its strategy of promoting 3D-animated instructions, whether to kids or to its professional engineering audience. In an ORC International consumer survey, 80 percent of respondents said 3D images make them more likely to purchase a product, and 60 percent said they are more likely to purchase if they have 3D instructions.
Citing data from an Accenture report, "Big Trouble With No Trouble Found: How Consumer Electronics Firms Confront the High Cost of Customer Returns," Autodesk officials said 68 percent of all product returns are due to poor documentation.
Access to easier-to-understand and easier-to-navigate instruction manuals can only make consumers happier with the products they buy. On a professional level, highly detailed, animated instruction manuals tied to the 3D product record can only result in optimized maintenance and better product quality. Animated instructions for the Lego dragon may not necessarily fall into your wheelhouse, but 3D animated instructions for the products you design could mean more business for your company.
Related posts: