As we've reported, IMSI/Design is making no bones about the fact that it wants to dominate the mobile CAD app market. Now it is introducing a 2D and 3D software development platform that will let developers build their own apps on the IMSI/Design viewing engine.
Expected to be available for free this month, the TurboApps SDK will let CAD developers catering to the architecture, engineering, and construction (AEC) segment build apps around viewing 2D and 3D DWG and DXF wireframe models. Royal Farros, IMSI/Design's chairman and CEO, said in a press release that the goal is to create a mobile development platform designed to take advantage of the things that make portable devices so different from design computers. "We believe we can be a foundation for Mobile CAD going forward, and can't wait to see what apps the smart phone and tablet generation creates."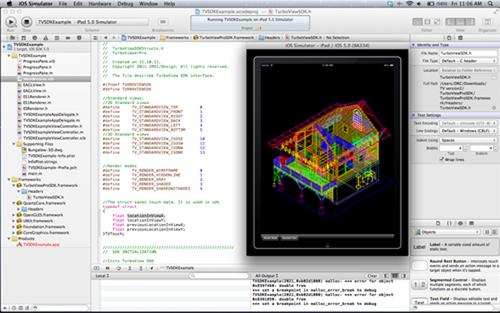 Doug Cochrane, the company's chief technology officer, told us that developers have been asking IMSI/Design about using its 2D/3D drawing viewer ever since its first mobile app was released last year. Because IMSI/Design can deliver native 2D and 3D DWG viewing support on mobile platforms, including iOS and Android, mobile developers and customers are asking to leverage the drawing engine as a base platform to build their own apps. Those being discussed include apps for cloud file storage/document viewing, project management, punch lists, fieldwork, reviews, markup, and site/floor inspections.
For example, Cochrane said a developer involved in the shipbuilding industry who wants to conduct mobile on-ship inspections with a tablet device using the base Turbo Viewer engine can view the ship drawing and then use the SDK to create custom forms and checklists specific to that industry.
"They will use our TurboApp SDK and avoid having to create the complexity of a DWG viewer engine," he said. "This allows them to concentrate on creating their custom forms."