Most people think of Mentor Graphics Corp. as a hardcore EDA (Electronic Design Automation) tools vendor. They are. But in recent years, they put some muscle into expanding into the world of Computational Fluid Dynamics (CFD) software, making several key acquisitions -- the most recent, giving them a systems-level 1D CFD tool.
Mentor has acquired the Flowmaster Group, a provider of systems-level 1D CFD tools used by a wide range of engineering professionals in the automotive, marine, oil and gas, power generation, and process industries to perform thermo-fluid analysis. 1D CFD solutions, like the Flowmaster platform, are typically used for engineering the design of complex fluid network systems like water-cooled electronics racks, automotive vehicle thermal management, and aerospace fuel systems.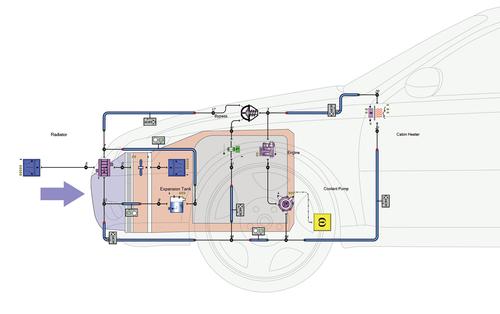 Flowmaster's system-level focus and its ability to perform conceptual studies without requiring 3D geometry to define components was part of what made it a compelling acquisition target for Mentor, according to Erich Buergel, general manager for Mentor's Mechanical Analysis Division. Because there is no need for fully formed 3D models to perform analysis, engineers can leverage CFD to vet designs far earlier in the development cycle when they can do more effective conceptual studies, and make design changes in a more cost-effective manner, Buergel told us.
What's also compelling about Flowmaster -- and what makes it a good fit with Mentor's tool portfolio, Buergel said -- is its systems-level approach. Mentor already offers a portfolio of simulation and analysis tools focused on the electrical side that takes a similar systems-level view. "This acquisition is a natural continuum of what we already did on the electrical side," he said.