There's long been talk about how PLM can both serve as the central repository for all product-related information, and be used as a workflow engine to facilitate data sharing and product development tasks. And we're not just talking in engineering, but throughout an entire organization on a global basis. Let's face it, PLM is a hard-to-define concept, and, for many smaller companies, an even harder-to-digest enterprise technology strategy. For every big automotive or aerospace player that has feverishly embraced the technology, there are countless smaller shops that are holding back or struggling to make their PLM implementations a success.
At least that's how Kenesto wants to interpret the PLM story. The startup is founded by Michael Payne, a man with formidable history of establishing CAD and PLM companies, including PTC, SolidWorks, and SpaceClaim. Kenesto's big idea, as its marketing guru Alex Neihaus told us, is to be the process automation tool people love and use. As Neihaus explains it, traditional PLM is basically a process automation tool that is too complex to use effectively, prompting many users to circumvent it, using spreadsheets or email to share critical product data.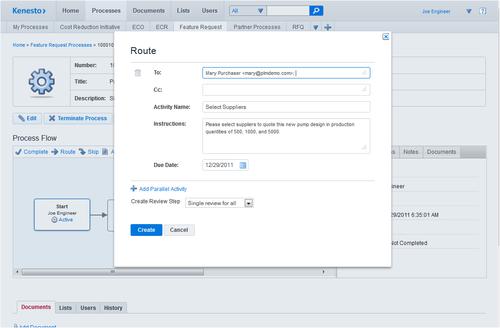 Moreover, Neihaus claims PLM's tight ties to CAD still limit its use beyond engineering -- a fact Kenesto is hoping to avoid with its process-automation-for-anyone approach. "PLM is captive in its own specialization," Neihaus said. "We're trying to make Kenesto easy enough so people won't feel like they instantly have to run screaming from PLM into email."
To clarify, Kenesto isn't a replacement for PLM systems, but rather a different approach for solving the process automation piece of facilitating engineering workflows. Kenesto, which is cloud-based software, employs conventions that most users understand, like sending and receiving attachments, so it feels in many ways like a familiar email system. In addition to simply routing drawings, documents, RFQs, and bills of materials throughout a product development design chain, the system lets participants in any department within the company or at an external supplier create and automate processes on-the-fly in a graphical way. It does not require the behind-the-scenes programming of most enterprise business process automation platforms, according to Maya Olsha-Yehiav, Kenesto's director of product management.