Jack, the Siemens PLM Software human simulation modeling tool that's part of the Tecnomatix digital manufacturing offering, got a little remodeling of its own with a new point release that pushes usability and productivity enhancements to facilitate easier, more accurate ergonomic studies.
Think of Jack (and there is a Jill) as digital manufacturing software's equivalent to gaming avatars. The digital humans are deployed on to digital factory floors, for example, to test and simulate safety conditions surrounding different machinery or to explore ergonomic conditions like reachability when assembling the virtual product. We've been reporting on Jack and other human simulation modeling tools for some time. But they've remained somewhat niche applications deployed by the pockets of large automotive OEMs and other manufacturers that have gone far down the path of digital prototyping.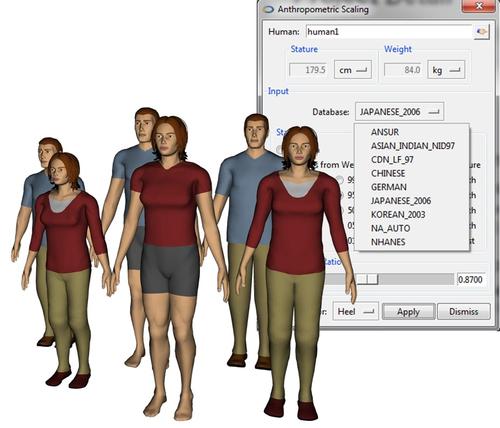 Thanks to technology advances and an increased focus on ergonomics and safety on the factory floor, the use of human simulation modeling is becoming more widespread, according to Tom Hoffman, Siemens PLM Software's global marketing director for manufacturing engineering software solutions. Not only is the software starting to be used more readily in its traditional applications of ergonomics around product design and safety on the factory floor, but it's also starting to be used in specialized ways around maintenance and training. For example, Hoffman says the Department of Defense is increasing its deployment of tools like Jack to explore how vehicles get serviced in the field, and other companies are branching out and using the tools for training around service operations.
"We're seeing an uptick in interest, and we're seeing a lot of new technology come on board that makes human simulation tools more accessible," Hoffman told us. Specifically, more accessible motion capture technology, better graphics capabilities, and interactive interface systems like Microsoft's Kinect are pushing the envelope and opening doors for new use cases for the tools.
In its latest release of Jack, Siemens PLM Software has focused on making the software more accessible, as well as making productivity enhancements to help encourage broader use. Jack 7.1 includes new anthropometric databases, including those for Japan and Korea, to ensure populations in those areas are properly represented. In addition, the upgrade includes enhancements for posture prediction for seated activities and for disembodied hands. The seated posture tool, for instance, predicts overall body posture when a digital avatar needs to reach around and grab parts from a seated position. There is also a more accessible measurement tool -- a feature enhancement that was added based on user demand.
Further reading: