IMSI/Design is definitely out to prove it takes this mobile app thing seriously. The developer of TurboCAD, a popular retail CAD tool, was one of the first out of the gate with a free mobile viewing app for the iPhone, only to follow up with a professional version for both smartphones and tablets. Now, less than six months after that introduction, it's back in the ring with a second release of TurboViewer Pro, which ups the number of CAD file formats it supports to nearly two dozen.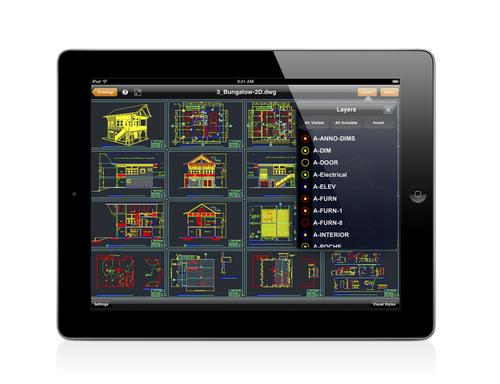 TurboViewer Pro v2, which IMSI/Design differentiates from other CAD viewing apps in that it delivers both 2D and 3D viewing capabilities, now offers support for 23 industry-standard CAD file formats, including .DWG, .DWF, .DXF, .SKP, and PDF in both single- and multi-page formats. The company has tossed in a few professional-level enhancements, such as layout support for viewing both model and paper layouts, in addition to some performance and memory tweaks so the app runs optimally on the latest Apple iOS platforms. In the fun or feel-good enhancement category, the new release now supports tactile sound feedback so you get some confirmation when you press a button, in addition to AutoCAD SHX font support and True Type support for improved visual fidelity for viewing purposes.
While the upgrade's new features aren't any great shakes on their own, what is more interesting is IMSI/Design's dogged efforts to stay on top of new mobile app releases. Most of the CAD vendors have launched exploratory apps, but none, other than Autodesk, have gone as far as IMSI/Design in terms of vocalizing its intent to carve out a stake in the mobile apps market.
While many engineers still remain skeptical about what kind of real design and CAD work can actually be done on mobile platforms like smartphones and tablets, IMSI/Design's Chief Technology Officer Doug Cochran says there's a clear use case. "Mobile devices will mainly be used for the consumption of information, not for the creation of 3D data," he told us.
I think that's where a lot of engineers are getting tripped up. They assume the new design apps will just be scaled down -- that is, throwaway versions of their existing CAD tools -- and that the mobile platforms aren't well-suited for handling complex 3D modeling. They're probably right. But Cochran says that's not where the opportunity lies. Rather, the opportunity is in tapping the unique capabilities of mobile platforms -- their GPS functions, for example, or the cameras -- and leveraging them to change the way engineers work in the field, unencumbered from a laptop.