Dassault Systèmes is continuing to put its money where its mouth is when it comes to fleshing out a true multi-disciplinary systems engineering approach to product development. In its latest move, the company acquired Elsys, a provider of a suite of electrical engineering tools, adding a range of functionality to its Version 6 platform that bridges the worlds of mechanical and electrical design.
Elsys, a small European software company, delivers a suite of logical schematic design applications in addition to functionality required for the backend process of generating on-demand schematic views required by collaborators throughout the value chain, from designers to manufacturing and maintenance users.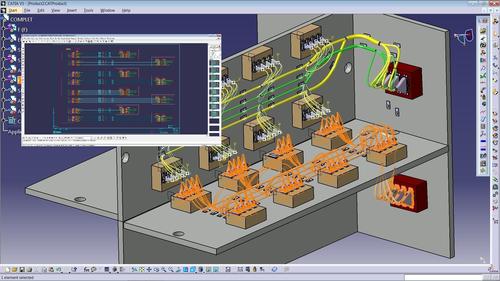 Elsys's claim to fame has to do with something called "multi-discipline generative schematics" technology. According to Dassault officials, the technology is disruptive because it automatically creates the millions of 2D schematics from functional-logical master data and eliminates the tedious and error-prone (not to mention costly) process of manually creating these schematics.
"The Elsys technology for multi-discipline generative schematics automatically creates on-demand, compliant with industry standards, 2D schematic views that engineers, managers, or operators can understand from a logical data set in a database or other input formats," Alban Wyniecki, CATIA market development and strategy, at Dassault, told us in an email interview. "With 100 percent automated, high-quality schematic views, the cost for creating and maintaining the various documents for systems design, manufacturing, and maintenance is dramatically reduced." Wyniecki claims that Elsys is the only technology available today that creates these views automatically.
Beyond the unique capabilities of the Elsys platform for electrical engineers, the acquisition strengthens Dassault's story around building out a full mechatronics design platform. Wyniecki framed up the driver for the acquisition on the trend of including more and more electronics in products, which, in turn, requires more sophisticated electrical connection systems to handle interaction between the components. A standard car, for example, typically has three kilometers of wires, while there are tens of thousands of connection points in satellites and over 600 kilometers of wires in an aircraft, he said.
"Addressing this complexity as well as emerging requirements -- sustainability (electrical/hybrid technology, weight optimization, etc.), traceability (compliance around global and local regulations), and globalization -- requires a new level of integration of electrical development applications and multi-discipline collaboration," Wyniecki said. "It requires an end-to-end process for the design, simulation, and manufacturing of complex, robust, lightweight electrical connection systems at a lower cost." Typically, the full process is handled by non-integrated applications connected to different databases, leading to manual hand-offs and opening the door for potential quality failures.
Dassault knows of what it speaks. In 2006, Airbus endured a highly publicized delay on its A380 airplane due to design snafus around its wiring harness system. While there obviously many factors involved, some attributed incompatibilities between different versions of Dassault's CATIA CAD package as partly to blame for the problems.
While he declined to comment specifically on that event, Wyniecki said that developing the wiring harness for complex products like a commercial airliner does raise challenges around integrating the electrical systems logical definition with the multi-discipline 3D mockup where all systems are designed together.
Elsys's long-term expertise in aerospace electrical engineering development will enable Dassault Systèmes to provide a best-in-class electrical engineering solution integrated with a 3D wire harness design application on the Version 6 collaborative platform, he said. Perhaps that's a tacit acknowledgment of some prior gap in functionality in the V6 platform and of Dassault's commitment to filling out its tool suite to ensure it no longer is a problem.