Aras is trying out a "fill-in-the-gaps" strategy for its latest product -- a version of its PLM platform designed specifically for companies running SolidWorks CAD in conjunction with the SolidWorks Enterprise PDM data management system.
If you're a CAD shop already running a PDM repository, why the need for an additional PLM package? Aras says it's because while SolidWorks Enterprise PDM provides all the standard CAD-related file management capabilities (check in and check out, for example, along with CAD file management associativity for work-in-progress), it doesn't handle the "other stuff" that goes along with creating products. Other stuff, according to Marc Lind, Aras senior vice president of marketing, could be anything from the electrical BOM to the embedded software data, even down to packaging information.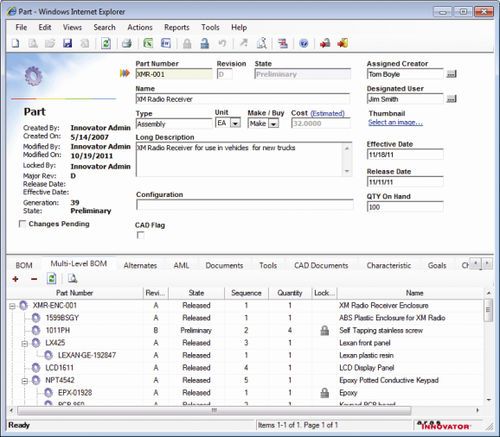 "There are things you need for a full engineering BOM that's ready to release to manufacturing that you're not putting in 3D CAD," Lind told us. "You're going to need to make sure which version of the mechanical design goes with which version of the electrical design and firmware. Add packaging on top of that and that's where the SolidWorks Enterprise PDM starts to run into challenges."
Ongoing discussions with the SolidWorks reseller channel revealed this gap, Lind said, prompting the idea to offer SolidWorks users an out-of-the box solution that could handle corporate-wide PLM processes. The new release, called Aras EPLM, is separate from Aras's mainstay open-source PLM offering, meaning that it is a commercial product sold by reseller partners for a $995 per floating user license fee.
Aras essentially took its packaged PLM functionality -- we're talking a full item-based and process-oriented PLM system -- and bundled it with connector technology that delivers seamless integration with SolidWorks Enterprise PDM. That means the workflows are focused on the way SolidWorks users work, so they can continue operating as business as usual, Lind explained.
The packaged Aras addition provides SolidWorks shops with a number of important full-scale PLM capabilities, including revision and version control, configuration management, integrated project management, product costing, make vs. buy parts analysis, approved vendor and manufacturers lists, customizable BOM reports, enterprise search, and an array of enterprise change management functions. On the project management front, there is a project portfolio dashboard and stage-gate project management capabilities for managing new product introductions, Gantt charting functions, as well as tasks and activities.
To round out the feature set, Aras EPLM offers project collaboration workspaces, including role-based team assignment functionality, along with capabilities for supplier collaboration and quality compliance.
Aras EPLM won't be available through Aras's traditional open-source channel, but rather through select resellers, including Fisher-Unitech and Razorleaf Corp. Lind said SolidWorks PDM isn't the only platform where Aras sees opportunity in serving up a full plate of PLM functionality, although he declined to be more specific. "There are definitely opportunities in the marketplace where PLM is lacking relative to PDM offerings," he said.