There are improvements to the visualization capabilities, the new tooling design and machining functionality, and both the feature-based and synchronous modeling modes in NX. Yet the two standout areas in the latest, version 8 upgrade of the CAD platform from Siemens PLM Software have everything to do with CAE and the company's HD-PLM vision, a framework for providing visual information and analytics to users in the context of how they work.
NX 8's focus on CAE is a direct correlation to users' growing requirement and increased comfort level with making simulation an influential part of the early design process. "We're seeing increased emphasis on upfront quality and getting products right the first time," Paul Brown, Siemens PLM Software's senior marketing director for NX, told us. "We're seeing more people becoming comfortable with a simulation-led design process."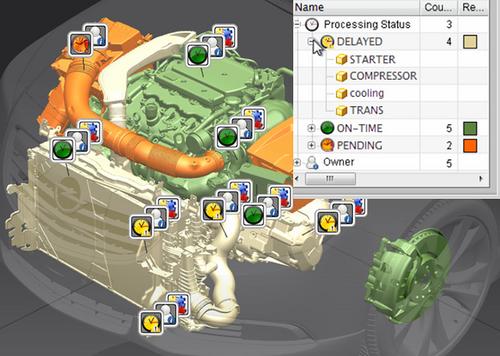 With that in mind, Siemens has taken fairly big steps to up the ante with NX CAE, and officials tout over 200 new capabilities in this area. The release ushers in new solutions for optimization and multi-physics analysis, along with additional methods for analyzing complex assemblies. One of the more important additions is topology optimization, used to help analysts reduce component weight without jeopardizing structural integrity. This feature works by suggesting ways of how and where materials could be removed in a design, Brown explained, making the design process go faster and resulting in a much more guided decision process. "This is really about reducing iterations and the time it takes to get to a finished design," he added.
Multiphysics, a hot button in the CAE world, is another area where NX 8 pushes the envelope. With this release, users can perform multi-physics thermo-mechanical analysis to analyze thermal contact problems that could have an impact on structural performance -- a scenario that's particularly critical for aerospace engine design. As far as performance goes, there are improvements in NX Nastran 8 around parallel processing, which speed up computations and allow for enhanced numerical accuracy.
Building on what it started with NX 7, Siemens is also buttressing its HD-PLM story with this new release, particularly as it relates to CAE functionality. HD-PLM, which appeared for the first time in NX 7 released last year, leverages capabilities like role-based technologies along with familiar Web 2.0 constructs like tagging and cover flow to personalize the workspace and present information to users in the proper context for the tasks they do as part of their jobs.
In NX 8, there is a new simulation "results measures" feature, which lets users tie results directly to requirements. Using the HD3D tags, engineers simply drill down into a requirement and find out its history. So, for example, if they were developing a laptop, and a thermal analysis revealed that the heat transfer was too low, they could touch on a tag to go back to the original requirement to evaluate its history and make smarter decisions. Before such a feature, they'd have to leave the NX CAE environment and research the requirement in Teamcenter or another documentation system, Brown explained.
The HD3D visual reporting functionality has also been expanded with a number of new predefined, out-of-box reports that deliver information on items like on-time/late status and other design and project properties. Users can create multi-dimensional reports that include more than one top-level report property, employing visual tags and color coding to differentiate objects for a quick comparison.
Beyond the two core areas of enhancement, NX 8 also delivers a variety of other feature additions, including an improved Check-Mate validation tool; HD3D enhancements to Requirements validation so users can quickly locate, diagnose, and fix problems; sheet metal improvements; and enhancements to the visualization tools in the areas of rendering and shading to deliver new levels of realism for design reviews.