These days, who doesn't have a preference for learning how to wax their skis or explore their new navigation system, not by pouring over laborious technical manuals, but by surfing over to their favorite share site and perusing videos or animated drawings to see how it's done.
That's what Autodesk sees in the tea leaves. As a result, the company has served up yet another of its test-the-waters technology previews on Autodesk Labs. This time, it's Autodesk Inventor Publisher Publish to Social technology, a plug-in that lets design users post animations, video clips, and technical documents to sites like Facebook and YouTube directly from the software for sharing.
Tyler Barnes, Autodesk's product manager for Inventor Publisher, said the technology preview is a result of customers asking for a seamless connection between their at-work productivity tool and popular social media sites. "We're providing the ability to share content in places where our customers' customers are most likely to go," Barnes told Design News. "If you're a consumer products manufacturer, it's nice to have an ability to put a video assembly sequence on the YouTube channel or a Facebook page so your customers can easily find it."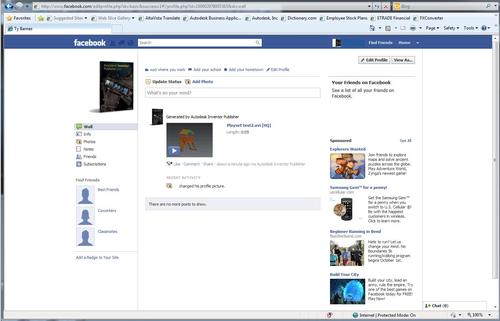 Inventor Publisher is Autodesk's offering that allows non-CAD users responsible for creating technical documentation to leverage 3D CAD files, 2D drawings, and animations to produce more engaging technical documentation for their products. This could be a 3D interactive manual for a consumer electronics product or an animation that would show a plant worker how to install and maintain a piece of machinery on the shop floor.
"People who are creating documentation are typically removed from the 3D design data that's so critical to creating compelling documentation," he explained. "Because these people don't have expertise or the ability to access that design data, it leads to documentation happening at the end of the product development process or text-heavy 2D documentation that's confusing for customers."
Barnes says Inventor Publisher users can certainly post their documentation and animations to any of these sites today, but there are extra steps involved, and they can't do it directly from the software. With this preview, Autodesk is adding a publishing wizard via a new icon on the software's toolbar. Simply click, and the tool will specify the proper steps to get a video or exploded CAD animation posted on line. The tool also has some Custom Presets that allow users to publish their creations and be sure they're in keeping with corporate standards.
The Inventor Publisher Publish to Social technology preview will be up on Autodesk Labs until February 28, 2012. Users will need to have Inventor Publisher 2012 SP1/SP2 software installed in order to take advantage of the plug-in.
As with any Autodesk Labs preview, there's no guarantee this will ever be offered as a commercial product. As Barnes said, the technology will be available to users for comments and feedback. Yet it seems pretty much like a no-brainer to me. After all, where else are consumers going to get how-to help, share opinions, and lament products that don't work as they're suppose to?