After experimenting with a variety of design tools, Minato standardized IE+D on SolidWorks software, both the CAD program and SolidWorks Enterprise PDM. Having a fully integrated product development platform, including structural analysis and motion kinematics simulation software, was a plus. But the main appeal was SolidWorks' usability, he says, which was a key requirement, given that ID+E wanted to let engineering partners tap into the same design platform.
The QuickSider project was the first to exploit IE+D's new SolidWorks collaborative foundation. Unicell had a concept for an innovative urban delivery vehicle, which addressed a number of issues, including making it easier, safer, and more efficient for commercial couriers to deliver packages. Unicell came up with the concept and had domain expertise in truck body design, but it had never built an entire vehicle from scratch, and it lacked expertise in a variety of critical areas, including drivetrains and electric vehicle (EV) technology.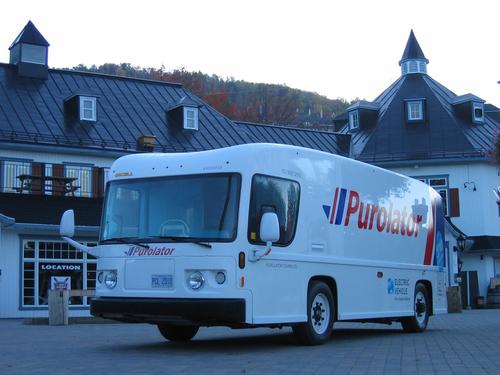 "We're a private company, and we wanted to stretch ourselves," says Roger Martin, chairman and owner of Unicell. "But we had to bring in outside expertise where we did not have it ourselves."
Unicell turned to ArvinMeritor for suspension and drivetrain expertise. It contracted with a variety of electrical engineering shops, and it selected IE+D initially as one of several mechanical engineering partners and eventually as the lead vehicle integrator on the project.
The pool of collaborators was deep, Martin says, because the QuickSider vehicle broke new ground in a variety of areas. It called for a low-floor design to eliminate the stairs that are a common component of package delivery trucks. Eliminating the stairs would make it easier for delivery personnel to get packages in and out and reduce the potential for injury. There was a significant amount of automation in the QuickSider's design to eliminate tasks for the driver and facilitate the business of making deliveries. In addition, the low-floor design couldn't accommodate the standard placement of the drive shafts and transmission underneath the vehicle, which fueled Martin's desire to design the QuickSider as an all-electric vehicle.
"The knowledge required to develop QuickSider was not common knowledge," Minato says. "We had to engage electric drivetrain specialists, battery specialists, and auxiliary systems that are not known by most engineers. A lot of this was new technology, so we had to rely on companies with that specialty."