Even though the 10-person Inertia Engineering + Design Inc. (IE+D) is a relatively small shop, the engineering services provider is regularly confronted with big-time product development challenges.
For any given project, the team coordinates with multiple partners -- from industrial engineers to manufacturing providers to its core client -- using different CAD systems and design tools, and often with team members scattered around the globe.
The QuickSider low-floor, electric urban delivery vehicle, for which IE+D served as the primary engineering contractor, really put this firm's collaborative design mettle to the test. The project, a coordinated effort between IE+D and its client, the truck body manufacturer Unicell Ltd., involved close to a dozen other engineering contractors and specialists, along with Purolator Courier Ltd., a leading Canadian overnight courier and the prospective customer for the QuickSider delivery vehicle.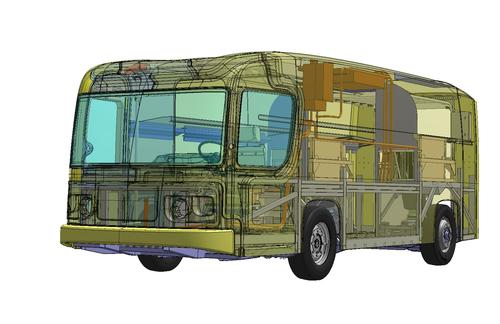 With each of the parties responsible for a core piece of the QuickSider design, it was imperative to have some sort of formal foundation for collaboration and CAD file sharing to avoid translation issues, time delays, and general design miscues that could arise from having multiple parties working on different systems, in different time zones, and with different priorities and engineering workflows.
"When you're dealing with offshore or external companies, it basically comes down to being in constant communication with the partners to make sure nothing is assumed, or there are no misunderstandings," says Ray Minato, president of IE+D. "You have to make sure you're minimizing potential errors by communicating on a daily basis. You can't keep close tabs by throwing stuff over to a vendor or partner and following up a week later."
Even before the QuickSider project, IE+D made a bet early on that a robust collaborative design platform and formal set of collaborative design workflows would help differentiate its services from those of competing engineering contractors. Minato invested in technology that would facilitate working with far-flung teams, including project management tools and a product data management (PDM) platform.
Beyond simply facilitating the sharing of CAD models, Minato saw PDM as a way to engage the customer and differentiate his shop on service. "We wanted to give customers visibility into what we were doing and have them be a part of the process, rather than being asked to design something and come back and say, 'Here's the product,'" he says. "We put the foundation in place to ensure streamlined communications -- it's the cornerstone of our business model."