I've been writing a lot about 3D Systems Corp.'s aggressive push to court the maker/enthusiast crowd with sub-$2,000 3D printers and low-cost 3D printer/CAD software bundles. Now the company is turning its attention to professional 3D printers, touting a new offering it says raises the bar for features and performance at what's still a reasonable price point.
Color is the standout feature of the new ProJet 1500, which can print high-resolution durable plastic parts in up to six different colors. In addition to the color support and its very palatable $14,500 price tag, the ProJet 1500 combines high-resolution capabilities allowing for fine detailing and smooth surface qualities with the ability for engineers and designers to produce durable plastic parts at build speeds of up to 0.8 inches.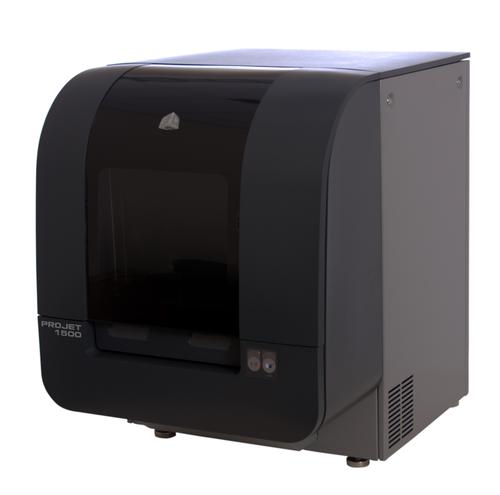 "The ProJet 1500 is considered a Personal 3D printer with professional-level capabilities," Buddy Byrum, senior director for 3D printing at 3D systems, told Design News. "Other affordable 3D printers produce plastic models that either offer high resolution and a single color or low resolution with some choice of color. The ProJet 1500 offers the combination of high-resolution plastic parts with a choice of color."
Byrum said the combination addresses a gap in 3D Systems product line. "We did not have these same features combined into a single printer before," he said. "We had our high-resolution, color material systems and we had affordable single color personal printers."
So what about use cases? Given its ability to print durable plastic parts, the ProJet 1500 lends itself to a variety of applications, and Byrum sketched out a few examples of how he sees the printer at work.
Creating concept models to improve design communication with peers or with customers is one core application where the color capabilities will lend an added boost. "When you're communicating your design to someone and you're trying to elicit feedback, you care about what it looks like, not just how it functions," he explained. Color also has some practical implications as engineers can leverage the capabilities to print different parts of a model in different colors, making it easier to call out specific features and enhancing overall communication.
The other likely use cases for the ProJet 1500 are for iterative prototyping and to accelerate functional testing to verify and improve design performance. For example, with the ProJet 1500, a designer or engineer could produce a part with a fairly high level of precision and accuracy, right in the office, for verifying designs with a customer or peers. The printer would not, however, be a viable option for verifying tooling -- that kind of application still demands the precision and performance of 3D Systems (or competitors) and much higher-end and expensive SLA rapid prototyping systems, Byrum says.