With business intelligence all the rage in corporate America, the market is saturated with tools that promise to unlock insights hidden away in all the terabytes, even petabytes, of data lying around the enterprise.
Now, Elysium Inc., a long-time player in the CAD interoperability market, is testing the waters with an offering that attempts to bring a bit of that business intelligence flavor to intellectual property locked away in proprietary 3D CAD models. Currently in use with a couple of select clients (big companies in the aerospace and automotive sectors, we're told), Elysium is leveraging its nearly 30-year history of providing services and software around multi-CAD collaboration and data exchange to this next opportunity, where it strips out core IP stored in CAD models and makes it available for integration into other core enterprise systems like logistics, financial, and sourcing platforms.
"There's a variety of tools out there that have all the financial data, but they're missing the engineering content," says Martin Nowakowski, Elysium's newly hired vice president of sales, who is overseeing exploration of this service. "We're not an analytics company, but we can deliver ready-to-use content -- whatever information they want, we can strip out of a CAD model."
So what kind of information is locked up in 3D CAD models? According to Nowakowski, an increasing amount of valuable IP resides in CAD models, most of which is not readily accessible to others in the organization unless they happen to have a seat of the target CAD system, not to mention, know their way around CAD software. As more companies embrace 3D modeling, CAD, and potentially PLM platforms, are treasure troves of information around, not just geometric dimensioning and tolerances, but also manufacturing data and materials specifications -- all of which have value beyond the engineering group.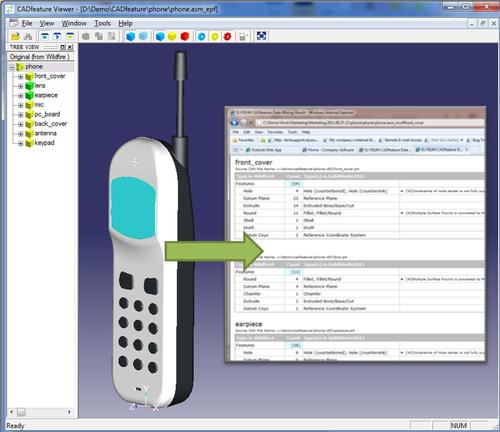 Elysium sees opportunity in mining the CAD model for that valuable information and integrating that metadata into enterprise systems to facilitate better decision making. For example, a company sourcing cast or forged parts could extract data within CAD models and directly feed it into a sourcing system to help understand the type of material used, the type of parts it's used in, and the various manufacturing characteristics as part of an exercise to zero in on the optimal supplier and get the best pricing package. In another example, data could be extracted from CAD models that provide rich data on weight, materials, and special handling characteristics, all essential information for logistics applications and much of it not systematically captured today or, if it is, done via time-consuming, manual processes.
"We have that ability to extract that metadata digitally," Nowakowski explains. "Traditionally, this has taken hours or days or even weeks, or it's not been feasible because of the scale of the data companies are looking at."
At this point, Elysium's offering is a work-in-progress with implementations at a select few customers, but Nowakowski says the firm is aiming to release the capability as both a paid-for service and/or as a software product that can run within a company's own servers.
As for CAD offerings that are starting to add so-called "product analytics" capabilities to their feature sets, Nowakowski draws a distinction, saying that Elysium's experience in multi-CAD exchange is what sets apart its offering. "A lot of companies work with mixed environments, so once the part is no longer in their flavor of CAD, then they have to go in and translate the part to their current CAD flavor or manually get the data to do any kind of analytics. We look across all flavors of CAD."
Only time will tell if Elysium is on to something and whether there's actually a big enough audience need for an extraction/integration type of service. What you can't debate, however, is the fact that 3D CAD models are increasingly the source of lots of rich information that has legs far beyond engineering.