SolidWorks 2012 makes its official debut, marking the 20th release of the CAD software and serving up a smorgasbord of new features that underscores just how much the bar has been raised as to what users now expect from their go-to design programs.
As I mentioned in my preview post last week, there really isn't a major theme for the dozens of feature enhancements in SolidWorks 2012, but rather they fall into four major buckets: Automation of commonly-used functions, enhanced performance, new workflows for changing the product development process, and additional collaboration capabilities.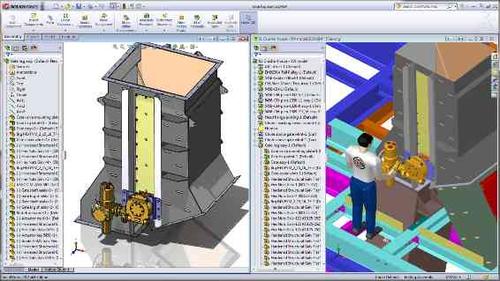 Let's start with some of the capabilities that were touted in the bucket of modifying and improving product development workflows. To me, one of the standout new features of SolidWorks 2012 is SolidWorks Costing, an integrated costing tool that automates manufacturing cost calculations for sheet metal and machined parts.
Based on research, SolidWorks found that customers were spending a good amount of time modifying designs to address cost concerns, using spreadsheets and manual quote processes to get the proper data. Given that many of these engineers are already SolidWorks users, the company saw an opportunity to deliver a more repeatable and accurate way for users to do what-if analysis on the materials and manufacturing methods associated with particular designs. Another big addition with the potential to modify engineers' workflow is the Large Design Review feature, which lets users open, review, and interrogate large assemblies (they must be native SolidWorks files) without requiring the horsepower of a high-powered computer system and without any special file preparation. With this new function, which SolidWorks' officials likened to the "fast-opening QuickView feature on steroids," engineering teams can conduct walk-throughs of large assemblies or facilities, perform sectioning and measuring work, and open up any assembly component at the same time.
In the category of customer-requested enhancements, there were a number of noteworthy additions. Here's a sample of some of the more interesting:
Magnetic lines and balloon enhancements. These two features will elicit applause from engineers who are fastidious about their drawings. With the new release, users can create and place balloons precisely where they need to go, enabling them to spend less time aligning and detailing drawings. The new magnetic lines capability helps arrange balloons; balloons will automatically snap to where the magnetic line is placed and can be easily moved from one line to another.
Feature freeze. A feature designed to address some of the performance complaints around SolidWorks when it needs to regenerate complex models after a design modification. With this feature, users can control whether specific features will rebuild or not, accelerating the design of complex models where rebuilding specific features isn't necessary after a design change.
SolidWorks Sustainability. The 2012 release ushers in new "what if" scenarios and support for more custom materials along with a new user interface designed to let users consider parameters like recycled content and duration of use as part of their environmental analysis.
Motion optimization. A feature intended to facilitate design optimization, allowing users to create sensors and refine machine aspects like motor size, bearing loads, and range of travel. The sensor inputs can automatically be adjusted to reflect changes to constraints or goals, and once employed, they can be used to ensure that range limits or bearing loads aren't exceeded.