Presenting functionality in a task-oriented manner is another way CAD and PLM software providers are simplifying entrée into their rich set of capabilities. PTC has taken that user interface principle to heart in the latest releases of its Windchill 10.0 PLM platform, as well as in Creo 1.0, its next-generation product development suite. Both platforms are modular and support a role-based paradigm as a way to access functionality, presenting a mechanical engineer with a different palette of tools and menu of options than might be available to a procurement specialist or an engineering manager.
"If you think back 10 years ago, people were accustomed to finding something in a system," says Jane Wachutka, division vice president for PTC's Windchill Product Group. "Today with the consumerization of IT and mobile devices, the individual wants the software to get out of the way. They have a task to accomplish and they need just the right functionality to get that task done."
Cleaning up the interface was a big part of that shift for both of the new PTC platforms. Windchill, which has taken its share of knocks over the years for being difficult to navigate, has been completely made over in the latest 10.0 release to be more visual and less text-based. While searching for information in a PLM platform has traditionally been an exercise in sorting through product tables, this new release offers visual representations of products and parts to provide clarity and simplicity, Wachutka says.
There is also a greater ability to customize the home page so users are only presented with what they need, stripping away the information that isn't useful to them. "Again, the consumerization of software has built up this expectation for the ability to configure my world, my stuff, my workplace -- I only want to see what I need to get a job done," she explains. In that same vein, Creo 1.0's Any Role apps approach supports a modular architecture, allowing users to choose targeted pieces of functionality in the form of different apps and put them together to fulfill their particular design tool requirements.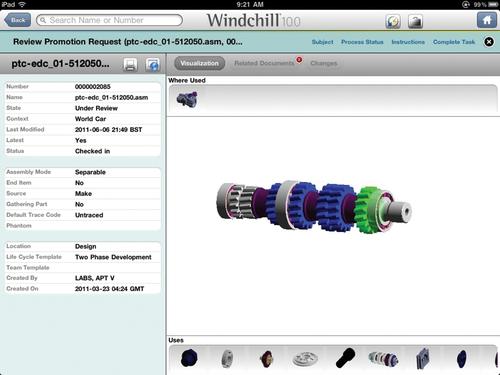 For tools where PTC is starting from scratch, the idea is to embrace these new concepts and to push user interface design to exploit the new elements of mobile right from conception. PTC's Service Information Solution (SIS) is one such example. The forthcoming program, due first quarter 2012 and built on the Arbortext technology, is designed to deliver product information to service professionals in the field.
PTC has shown off an early version running on the iPad that sports a "shake and break" interface, exploding a 3D model into separate parts and pulling it back together when shaken. Beyond the "wow factor" of that particular demo, the real significance is what's possible with a new navigation paradigm to explore models or to search and dig deeper for information on a particular component.