In yet another indication that Aras's bet on an open-source strategy is paying off, the lone open-source PLM provider has announced the availability of a Full Formula & Recipe Management system based on Aras Innovator and built by one of its partners.
Touting over 20,000 installations worldwide and over 120 add-on products for its open-source PLM platform, Aras believes its conversion to the open-source world in 2007 was the best thing it could have done to carve out a unique niche in the tightly contested world of PLM providers. While admitting that open-source PLM may not be a fit for every manufacturer, Aras is taking aim at what it calls the "PLM alpha dogs," or, as Vice President Marc Lind describes them, those sophisticated shops that are looking for alternatives to existing PLM technologies.
The company may well be on to something. With integration partners, large-scale customers, and the general open-source community actively engaged in enhancing and broadening the Aras Innovator product portfolio, the PLM platform has been the beneficiary of some pretty innovative capabilities -- including those around search, industry-specific functionality, and the latest process manufacturing -- that would have been otherwise been out of reach for a company with Aras's resources in light of a traditional software development model.
The newest addition, the Formula & Recipe Management Solution developed by Aras partner PSC Group, essentially transforms the Aras Innovator PLM platform into an end-to-end PLM solution for global companies in the CPG, health and beauty/cosmetics, life sciences, chemical, food and beverage, and other process industries.
The Innovator-based platform can be tapped to manage specifications, formulas, recipes, and tool and die equipment assets, in addition to work-in-progress items. Also, the Aras-based formula and recipe management module has functionality for resource planning; coordinating packaging, labeling, and artwork; and serving as a repository for quality, regulatory compliance, and intellectual property data across the enterprise and extended supply chain.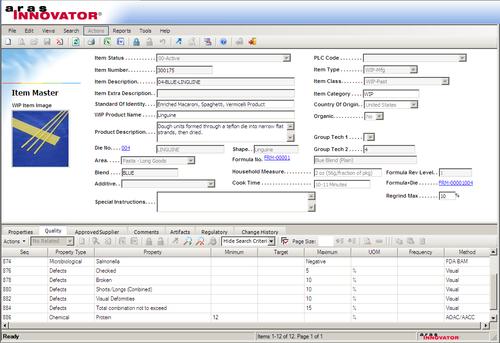 While Aras Innovator has been customized to meet the needs of several process manufacturers, this is the first official productized solution that bundles up broadly available best-practices and templates in this domain, according to Lind, who serves as Aras's senior vice president of global marketing. Lind says Aras has seen a rise in interest among manufacturers in process industries for its PLM capabilities. The increasing demand has prompted PSC Group to go ahead and release the packaged version.
Lind says the Aras formula and recipe management offering doesn't have any particular specialized functionality that might differentiate it from other process-industry PLM offerings. Yet he was quick to stress that Aras's modeling capabilities and core architecture set it apart from competitors, as it is fairly easy to modify and customize to a specific company's needs.
He also talked up the ability to be up and running on an end-to-end process-based PLM platform in short order, as illustrated by the American Italian Pasta Corp., which he said implemented formula and recipe management in 90 days, migrating 13 separate legacy databases to a single, centralized PLM system.
"Under the covers, we have robust platform technology that is generic to PLM whether you're talking about discrete or process manufacturers," Lind explained, in an interview. "We have a complex state structure... and our real claim to fame is the modeling technology," he said, adding that that is what makes it possible to easily modify Aras Innovator for specific industries and custom capabilities.
Aras and its partner are offering a free standard edition of formula and recipe management, but it lacks the comprehensive end-to-end functionality that will be offered in the enterprise version. It's often a misnomer that open-source applications are free. Typically, there is no licensing fee for the applications, but there are often other charges associated with the software, including maintenance and support contracts, as well as fuller functional versions.
That's the case with Aras formula and recipe management. The software will be offered to Aras customers with maintenance subscriptions, a fee Lind says is based on the deployment scope and can run as little as $40,000 annually for a small standalone implementation and up to around $100,000 for a global deployment encompassing thousands of users.