We've reported on how 3D printing is being used extensively in the design of custom medical equipment and dental implants. The Urbee, a hybrid vehicle designed by KOR EcoLogic, hit our radar screen because it was one of the first automobile body prototypes built using fused deposition modeling (FDM) 3D printing technology from Stratasys. We've even followed the advances in 3D printing with everything from food to custom swimwear.
Now there's a report of the world's first "printed" aircraft designed and built by engineers at the University of Southampton, in England. The Southampton University Laser Sintered Aircraft (SULSA, as it's called) is an unmanned air vehicle (UAV) project developed under the watchful eyes of university professors Andy Keane and Jim Scanlan, both from Southampton's Computational Engineering and Design Research group. The electric-powered aircraft, with a wingspan of two meters and a top speed of nearly 100 miles per hour, successfully completed its first test flight earlier this month.
The Southampton team initiated the SULSA project because it believes 3D printing technology like SLS has immense potential for the aerospace industry. Specifically, the team says the technology allows designers to create shapes and structures that would normally involve more costly, traditional manufacturing techniques, while also allowing for highly tailored aircraft to go from concept to first flight in a matter of days instead of months.
The fact that SLS 3D printing technology doesn't require expensive tooling is another bonus. The professors involved in the SULSA project say SLS technology enables aircraft designers to experiment with radical changes to the shape and scale of aircraft models without the burden of incurring additional cost.
The Southampton team got a boost from 3T RPD, an additive manufacturing specialist that contributed its expertise, as well as its nylon Selective Laser Sintering (SLS) technology. The SULSA research team 3D-printed the entire four-part structure of UAV, including its main fuselage, rudder fins, nose cone, and two outer wings using an EOS EOSINT P730 nylon laser sintering machine. The team then fitted the pieces together in a snap-fit assembly process, which means the aircraft was put together without tools, and within a matter of minutes.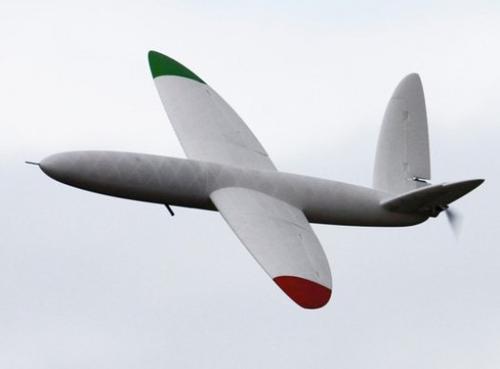 While SULSA is clearly more of a test project and hardly a full-scale commercial aircraft, universities are not alone in exploring how 3D printing can change aircraft design and manufacturing. Commercial aircraft vendors are well underway experimenting with 3D printing (or additive manufacturing as some call it) to produce both prototypes and production parts.
In fact, EADS, the European defense and aerospace company best known for its Airbus brand, has been using additive manufacturing technology to create various production-ready components for its aircraft, including landing-gear brackets. According to various reports, EADS is said to have its eye on a bigger goal -- creating a wing of an airliner using 3D printing. With all the advances in this area, it doesn't seem that far-fetched to me.