Building off the generalist focus of this year's earlier release, SpaceClaim has launched an upgrade to its 2011 3D direct modeling platform that makes a beeline for manufacturing production environments by packing in an array of new functions.
SpaceClaim can tout as its claim to fame raising the CAD world's consciousness to the benefits of direct modeling. Over the years, it has infiltrated a number of industry segments and smaller shops with its promise of a less complex but still powerful CAD environment.
The direct modeling paradigm helped attract new users to CAD, but partnering with the computer-assisted engineering leader ANSYS Inc. also created a compelling case for the modeling tool for analysts who want to stop relying on CAD jockeys to prepare 3D models for simulation. The software also offers a strong story on multi-CAD collaboration, since it can work with a variety of CAD files. In many cases, SpaceClaim doesn't supplant incumbent 3D CAD programs. Instead, its software is used as a complementary tool for specific applications.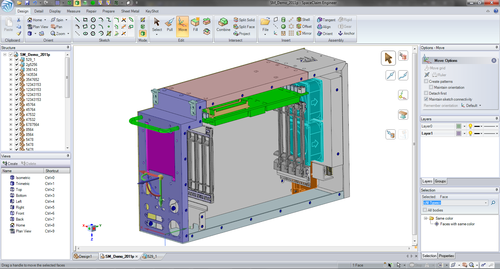 With its latest release, SpaceClaim Engineer 2011+, the company is taking on a variety of bread-and-butter manufacturing applications, including NC machining, jig and fixture design, mold manufacturing, and sheet metal manufacturing.
Sheet metal design is one of the primary areas of focus, and the new release offers new features here, including double wall support, tabs, hinges, gussets, curve wrapping, and marking. Much of the work around sheet metal has been an offshoot of SpaceClaim's relationship with TRUMPF, a $2.1 billion producer of sheet metal fabricating equipment, which chose SpaceClaim in 2010 as the CAD tool it promotes to its own customers for manipulating geometry for manufacturing.
Blake Courter, SpaceClaim's co-founder, went out of his way to play up the sheet metal capabilities in a briefing on the new release. "We're going after sheet metal manufacturing pretty hard over the next six months," he said, underscoring that the area will be a key differentiator for SpaceClaim going forward.
Another core area Courter emphasized in this new release was interoperability -- a critical requirement, he said, for making inroads in the manufacturing production space, particularly in the automotive sector. In this vein, SpaceClaim built on its backing of Siemens PLM Software's JT Open technology with the new release's support for semantic Product Manufacturing Information (PMI). This means SpaceClaim users can leverage JT data in a lightweight format, or they can work with richer, more associative information, including meta data and PMI.
Courter applauded Siemens PLM Software's efforts around JT Open, particularly as far as the format has made inroads into the automotive sector. "Kudos to Siemens for creating a level playing field and making a neutral format for delivering the goods," he said. "The JT Open guys have done the right thing going after ISO certification and paralleling other standards where they can." SpaceClaim is putting its money where its mouth is, Courter said, by becoming a JTOpen and ProSTEP iViP member.
The final area he addressed in SpaceClaim Engineer 2011+ is performance. By leveraging modern hardware and software platforms, including .NET, SpaceClaim designed the CAD modeler to be multithreaded. With the latest release, he says, the software supports multithreaded optimizations for faceting, PowerSelect, and background assembly loading, and there is no feature rebuilding bottleneck.