Simulation is rapidly shaping up as the theme for August at Autodesk, which has made its second announcement in this area in a matter of weeks.
Shortly after the release of Autodesk Simulation CFD, Autodesk has taken the wraps off two new offerings: an offshoot of its Moldflow plastics modeling tool available through its Subscription Center, and an Autodesk Labs project that tackles aerodynamics simulation.
The Autodesk Moldflow Adviser Design plug-in for Pro/ENGINEER works directly within the PTC CAD environment, allowing designers to evaluate plastic part designs and get feedback within seconds as they make continual design changes. This plug-in shouldn't be confused with the full-blown edition of Moldflow, nor is it intended to be used for in-depth simulations. A version is already available for Autodesk Inventor.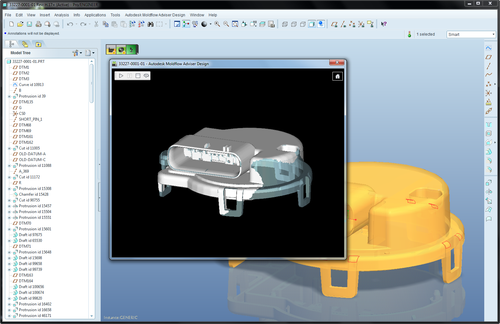 Rather, the plug-in is intended to give designers feedback as they work on injection-molded parts. It provides guidance for each design modification, along with real-time feedback on things like manufacturing feasibility, environmental impact, and the cost ramifications of each design decision and alteration. By getting near real-time filling simulation capabilities within the CAD model, designers can address and correct issues as they occur -- a capability Autodesk is touting as unique.
Brian Sather, the company's technical marketing manager, made a point of contrasting how a user would work with the Moldflow Adviser Design plug-in with how an analyst might tap a full-blown simulation tool. With a product like Moldflow, for example, the user would take the geometry out of a CAD system, prepare it for a mold analysis tool, set up a simulation, choose materials, and then launch the simulation, interpreting the results after the fact and perhaps then going back to make changes to the design. The Moldflow plug-in uses the same solver technology, but it's really more about delivering a steady stream of feedback as the design evolves, Sather told me.
Autodesk's second simulation effort is Project Falcon. The technology preview, which seamlessly integrates with Alias, is a wind tunnel simulator that lets users evaluate the aerodynamic performance of their designs at any stage. An automatic meshing capability comes into play to provide real-time responses, allowing users to evaluate flow and wind pressure on geometries throughout each stage of the design process.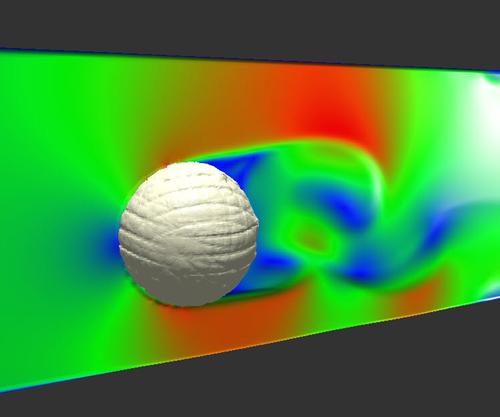 Like the Moldflow Adviser Design plug-in, the idea here is to make aerodynamics simulation easily accessible at the earliest stages of design, so users can identify problems when it's far less complex and expensive to make changes. Rather than conducting expensive wind tunnel testing multiple times throughout the development process, the Falcon approach lets users optimize designs for aerodynamics along the way, so only the best design goes through formal tunnel testing, according to Luke Mehelcic, Autodesk's product manager for computational fluid dynamics.
The Moldflow Adviser Design plug-in for Pro/ENGINEER is available for no additional charge for subscription users of Moldflow. Project Falcon is available to test drive on the Autodesk Labs site until November 9.