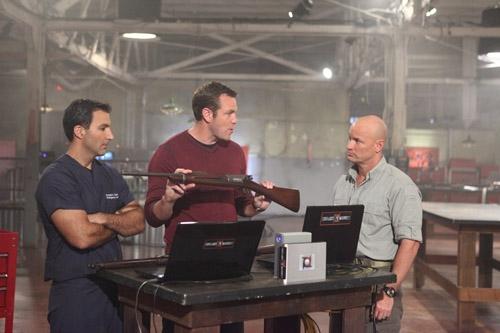 Blood, gore, and pig carcasses still dominate the screen time on the TV show Deadliest Warrior, but the new season serves up more of the science and engineering behind the testing that ultimately decides each episode's winner.
Spike TV's surprise hit show kicked off its third season with a matchup between George Washington and Napoleon Bonaparte. (Washington won.) Subsequent episodes pit Joan of Arc against William the Conqueror, U.S. Army Rangers against North Korean special operations forces, vampires against zombies, and (in a matchup that, frankly, I'm pretty curious about) Saddam Hussein against Pol Pot.
Historical research about each warrior and results from an extensive array of field and lab tests are fed into a proprietary simulation engine, which churns through thousands of battle scenarios to determine the Deadliest Warrior for each fight.
The testing has always played a key role in the outcome of the battles, but it has typically been more of a behind-the-scenes player, leaving the staged and often gory battle sequences as the front-and-center attraction. However, in response to audience demand for a peek under the proverbial scientific and testing covers, the Deadliest Warrior team has added a new segment to every episode. Host Geoff Desmoulin, a biomedical engineer by trade, works through the details of the experiments and delves into the technology and science behind some of the testing to explain their role in formulating the battle outcome.
"That work was always going on, but there was never any buildup or follow through to any of the weapons tests as far as the science was concerned," Desmoulin told me. "Now we're not just throwing out a number after a shell blew up a torso. We're seeing the process in which we achieved that number. It adds validity, it adds authenticity, and it's interesting."
Here's a look at some of the new high-tech gear leveraged in Geoff's Fabrication Lab sequence:
Motion capture technology. In the Joan of Arc episode, Desmoulin tricks out his warrior reenactors with sensors and reflective markers on key points on their bodies. Video records their movements in situations like thrusting a sword with and without their armor on. The experiment is designed to determine how much the different armor types limit a warrior's sword-wielding abilities.
A Photron high-speed camera. With capabilities of up to 75K frames per second, the camera and a zebra board setup are used to calculate the velocity of things like a cannonball and the damage it can do.
A NextGen Ergonomics data acquisition system. With 10 channels available, Desmoulin regularly employs this mainstay piece of equipment to collect a variety of biomedical data, including information collected from EKG, ventilation, electromyography, and force sensors. The data-collection device was particularly instrumental in tests done for next week's show: the U.S. Army Rangers versus the North Korean special operations forces. It tested everything from a sniper's physicology and control when pulling a trigger to breathing patterns and other factors that lead to what Desmoulin describes as the "perfect shot."
Actuators. This equipment was instrumental in the testing for an upcoming episode where zombies face off against vampires. Building off expertise from an advisory panel that said vampires are six times as strong as an elite human athlete, Desmoulin brought top-notch athletes into the show's "fight club." Using text scan pressure mats, he was able to record data from blows to the mat. This allowed him to produce a number that, when multiplied by six, showed the force behind a vampire strike. Those numbers were then replicated using the actuators to demonstrate interactively and visually whether a zombie bite or a vampire strike would be more deadly. Desmoulin isn't talking about the outcome just yet.
Wireless accelerometers. This equipment was used to test Newton's laws as they apply to gunfighting in one lab sequence. The accelerometers, placed on the barrels of guns, give Desmoulin's team feedback on which rifles were easier to handle.