All you have to do is dub something a flying car and you can't help but want to check in at each stage of the development effort.
Ever since I heard about the Terrafugia Transition, I've been fascinated. Maybe it helps that I saw an early prototype a couple of years ago when I dragged my then 9-year-old daughter and her friend out to a small, rural airstrip on Plum Island, Mass., near where I live, to get a first-hand glimpse of a modern-day "Chitty-Chitty Bang-Bang" brought to life.
Founded in 2006 by MIT-trained engineers who are also pilots, the concept for Terrafugia is to deliver a dual-purpose vehicle for people who can't necessarily afford to own both a plane and a car. It's also for those who want to mitigate some of the residual costs associated with hangar storage, door-to-door travel time, and lack of transportation when they arrive at their destination. The vehicle part, which in some ways reminds me of a Smart Car, is big enough to accommodate two people and a small amount of gear. The airplane part of the design is focused around wings that fold out when ready to fly and fold in when hitting the road.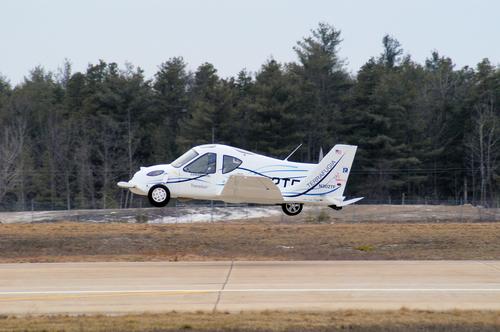 The Transition proof-of-concept vehicle was finished in July 2008, and it logged its first flight in 2009. It now has nearly 30 flights under its belt. Terrafugia has turned its attention to building the next-generation Transition and is on schedule (albeit a slightly revised schedule) to deliver its first production-ready vehicle by the end of 2012, according to Richard Gersh, Terrafugia's vice president of business development.
One year after I last checked in, the Transition hit yet another milestone in its flight plan. Late last month, the company was granted additional special exemptions it had requested from the National Highway Traffic Safety Administration (NHTSA), paving the way for the vehicle to launch full bore into its certification testing and crash test safety programs.
The first of those exemptions was granted by the Federal Aviation Administration last July, allowing the Transition to move forward with a maximum takeoff weight of 1,430 lb. -- an additional 110 lb. The extra weight was necessary to accommodate things like airbags, an energy-absorbing crumple zone, and a protective safety cage -- all components required for compliance with Federal Motor Vehicle Safety Standards (FMVSS), which are not typically mandated for light sport aircraft.