Despite the steady stream of mobile design apps announced and shipped over these last few months, a lot of Design News readers remain unconvinced that any CAD or design tool worth its salt can translate optimally to a mobile platform.
Security remains a concern for engineers, who have serious doubts about sending their prized design intellectual property back and forth over the Internet, despite vendor assurances that Web-based services can be just as secure (if not more secure, in some cases) than corporate networks locked down with VPNs and firewalls. The still-limited horsepower of smartphones and tablets for processing heavy-duty graphics like 3D CAD files compared to supercharged engineering workstations is another longstanding hurdle, as are concerns about the limited real estate for viewing complex geometry and assemblies.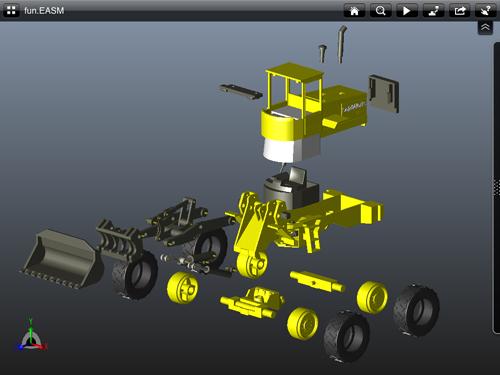 All these concerns (some justified and some not, in my opinion) are hardly stopping leading CAD and design tool vendors from pulling out the stops and rolling out new offerings. SolidWorks is the latest to jump on the bandwagon with the release of an iPad version of eDrawings, its collaboration tool that lets users share 2D and 3D files.
eDrawings lets anyone involved in product development (not just CAD users) load and send 2D and 3D designs via email. The viewing tool essentially creates a lightweight representation of 3D models or 2D drawings created by SolidWorks and other widely used CAD systems, opening the door for anyone with a PC to examine and provide input on design data. With the iPad version, anyone with that device can view, interpret, and peruse the design data, making it a viable option at client sites, in the field at a sales meeting, or at home.
The iPad edition of eDrawings leverages Tech Soft 3D's HOOPS Visualize platform to power its graphics with advanced file compression, real-time collaboration, and 2D, 3D, text, and hard copy capabilities. It has also been fully tuned to support the multi-touch gesture features of the iPad, so users can pan, zoom, and rotate models easily. This version supports the viewing of DWG and DXF files.
SolidWorks is hardly the only player offering 3D file viewing on tablets. We reported previously on the Autodesk Design Review Mobile app for Apple iOS and Android, as well as IMSI/Design's TurboViewer app, which is available in both free and professional $9.99 versions. In fact, some in the blogosphere were chiding SolidWorks, not just for being slightly behind in terms of releasing a mobile version of eDrawings, but also for initially supporting only the iPad, as opposed to Android tablets.
Critics say Android tablets offer more real estate than Apple offerings, thus providing a more effective platform for visualizing robust graphics. SolidWorks, among other developers, typically targets Apple iOS for initial mobile app deliverables because there is one API, compared with multiple APIs for the Android platform, thus making the development effort far less complex.
Related posts: