After more than eight months of space travel, the Mars Science Laboratory spacecraft carrying the $2.5 billion, 2,000-pound Curiosity rover is nearly ready to touch down on the red planet. Hundreds of CAE man-hours helped simulate, optimize, and validate the mission in the digital world, but the moment of truth for the rover and spacecraft design will be the final landing, which is slated for 10:31 p.m. PT on Sunday, Aug. 5.
The Curiosity, with its six vehicle configurations, 76 pyrotechnic devices, and 500,000 lines of software code (among other innovations), has been called the most sophisticated rover ever sent to Mars by its maker, NASA's Jet Propulsion Laboratory (JPL). A critical component of the rover's ongoing development has been a partnership between Siemens PLM Software and the JPL. Siemens' Teamcenter PLM software and its NX CAD and NX CAE tools were used to design and simulate the rover digitally before any physical prototypes were built and to ensure all components would fit together, operate properly, and withstand their environment.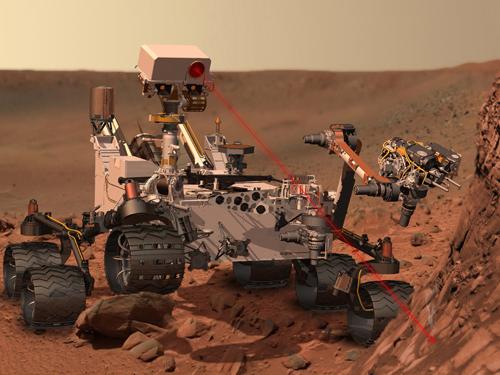 "NASA's JPL has employed the latest in software technology to design the Mars rover to withstand the impossible extremes of launch, space travel, atmospheric reentry, and landing a 2,000-pound operational vehicle on the surface of Mars," Doug McCuistion, director of NASA's Mars Exploration Program, said in a press release and at a press conference at the recent Farnborough Air Show.
One of the biggest design challenges in the Curiosity mission was the Mars landing -- a feat NASA is billing as "Curiosity's Seven Minutes of Terror." It will take seven minutes for the rover to travel from the top of the atmosphere down to the surface of Mars, but it takes 14 minutes for a signal from the spacecraft to reach mission control, so there will be a period when the ground crew will be completely in the dark about its status.