The Pegasus XL rocket's aft skirt fins are constructed from a single-piece, solid, foam core and wet-laid carbon composite construction around a central titanium shaft. Its wing panels consist of a carbon-faced foam sandwich. The rocket wing's channel section spars that carry the primary bending loads and half-ribs are also made of carbon.
ATK provided the solar array that will power the NuSTAR satellite itself, as well as powering its onboard sensors for NASA's planned multiyear experiments. The company built the NuSTAR observatory's instrument structure, which includes an integrated focal plane bench and optical bench, both made of high-strength composites.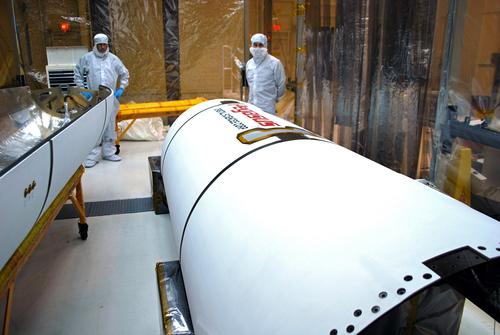 The focal plane bench serves as a stable, multi-functional platform for NuSTAR's instruments. It also functions as the primary interface to the satellite bus structure. During launch, this bench supports the stowed mast/canister and the optical bench with its integrated X-ray optics. The focal plane assembly's instrument electronics and metrology detectors are also mounted on this bench. These perform instrument alignment, focus, and data collection, which are all mission-critical operations.
The optical bench is a precision-engineered, highly stable structure responsible for supporting the X-ray optics modules, metrology lasers, adjustment mechanism, and star tracker. Held stable within the optical bench, the X-ray optics modules will acquire images as the NuSTAR satellite maps supernova explosions and searches for black holes.
Related posts: