Load-bearing structures can be reinforced with rigid PU (polyurethane) structural foams, such as BASF's Elasturan and Elastocast, allowing the downgauging of metal wall thickness. "In load floor examples from another transportation segment, overall weight reduction can be up to 50 percent compared to metal, while also improving strength and stiffness," said Mark Mielke, senior manager, aerospace, at BASF.
A primary lightweighting material in structures and interiors is metallic and non-metallic honeycombs. Hexcel's honeycombs are now being adapted to also address noise dampening blankets around aircraft engines due to more stringent noise constraints, said Imad Atallah, group product manager for core honeycomb, at Hexcel.
The company's Acousti-Cap technology is a single-cell, single-layer acoustic treatment on one side of a honeycomb core structure, which has a single resistance value. Clark Smith, Hexcel's research and technology manager for core and panels, said:
We join pieces of the honeycomb core together with a thin seam, not a joint, so it's acoustically invisible. We insert a cap material into the honeycomb core, cell by cell. Then we stabilize it by doing a precision dip into a resin, to keep the cap in the cell.
In the next couple of years, Hexcel will introduce a more customized single-cell treatment that lets each cell be treated differently, modifying sound resistance values by how many caps with different resistant values and heights are in each cell.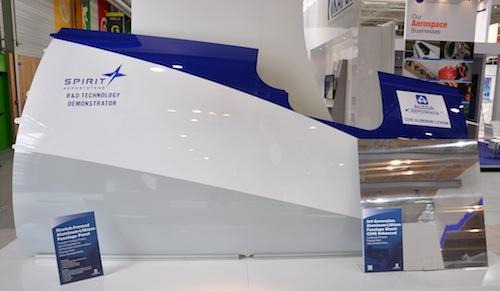 Other lightweighting methods include 3M's glass bubbles for rubber and plastic interior parts. They reduce filled plastic parts' weight by 10 percent to 20 percent and also improve dimensional stability compared to glass fibers, said Louis J. Lundberg, global business manager for specialty additives in 3M's energy and advanced materials division. Its newest iM16K filler product for polypropylene and polyamide also reduces cycle times by 15 to 25 percent.
REHAU, which produces polymeric parts and makes polymer-based materials for plastic extrusions used in aircraft cabin components, has developed RAU-Flight, a low-density polyphenylsulfone (PPSU) or polyetherimide (PEI) material. It incorporates an earlier 3M glass bubble product, iM30K, with a crush strength of 28,000 psi. Bernd Kupferer, REHAU's business unit manager for industrial solutions, said that a single handrail system for an Airbus A320 made of RAU-Flight could reduce the weight of an aircraft by more than 5kg.