In aircraft, additive manufacturing is becoming a best-practice for maintenance, repair, and overhaul (MRO) operations, especially for legacy in-service planes such as B-52s, Jeff DeGrange, vice president of direct digital manufacturing for Stratasys, said in an interview with Design News. AM is being used for making small parts, such as a knob that shuts off airflow, since for many legacy planes there are no more spare parts available and suppliers are often no longer in business.
Paramount, a 3D Systems company, has made several parts for the F-35 Joint Strike Fighter using its high-temperature laser sintering (HTLS) process, general manager Jim Williams, told us. Last December, Paramount delivered a machine and materials solution, including a database, to Northrop-Grumman, which redesigned its existing F-35 parts to fashion them for HTLS.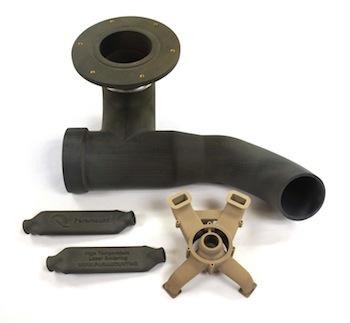 At the end of June, Paramount delivered the first real parts using this technology, and is now refining its manufacturing capabilities to scale up and go into production. "We anticipate getting parts onto the first aircraft in August 2013," said Williams. "After that, there will be incremental increases with low rate initial production. The eventual goal is to manufacture five aircraft a week." A total of 900 F-35 parts have been specified for production via AM.
Manufacturers of UAVs are using 3D laser sintering processes to make lightweight engine housings, cowlings, nacelles, ducts, fuel tanks, and entire fuselages. AM techniques let the vehicle or its payload be quickly customized or repurposed from one mission to the next.
Paramount has manufactured parts for QinetiQ's Talon and Honeywell's T-Hawk UAVs. What makes HTLS different is the material: it can be processed at 380C, much higher than nylon. It's naturally non-flammable and doesn't outgas, so it's also used in space applications. "Northrop is concerned about lightning strikes, and their AM materials had to be able to carry a charge through them, so much of our testing was on electrical properties," said Williams.
The company is also working on sintering chopped carbon fibers, not long fibers, for nanocomposites. Laser sintering polyaryl ether ketones (PAEKs) produces temperature resistance, mechanical performance, resistance to hydrolysis, and flame retardant characteristics, making the materials especially useful for aerospace applications. The carbon-fiber-reinforced PAEKs offer additional electrostatic dissipative characteristics and higher tensile modulus.
Another project aimed at sintering carbon composites for volume aerospace production is Stratasys's joint development initiative with the US Department of Energy (DOE) at Oak Ridge National Laboratory. The goals are to develop carbon fiber-reinforced FDM feedstocks and create in-process inspection methods, such as in-situ tests and close-loop controls, to assure part quality.
Meanwhile, University of Exeter engineers have combined SLS with aluminum powders to make cheaper 3D aluminum metal matrix composite (MMC) aircraft components. The materials and production method will enable lightweight parts such as pistons, drive shafts, and suspension components for airplanes.
UAV makers like the ability to do short full-production runs that would cost too much with other methods, as well as being able to quickly make design changes. Laser sintering can make hollow parts and thinner wall sections than injection molding.