The one joining technology ABB sees as growing and becoming more accepted by automotive OEMs is gluing or chemical bonding, Nidamarthi said. "Suppliers are coming up with new glues that can bond different materials. Dow Chemical's research is showing that such gluing can help achieve both lighter car weight and higher structural stiffness."
For example, Dow Automotive Systems' BETAFORCE two-component polyurethane adhesives are particularly well suited for bonding carbon fiber composites to other composites or to metals such as aluminum. These products have prolonged work times, adhere quickly, and require little surface preparation.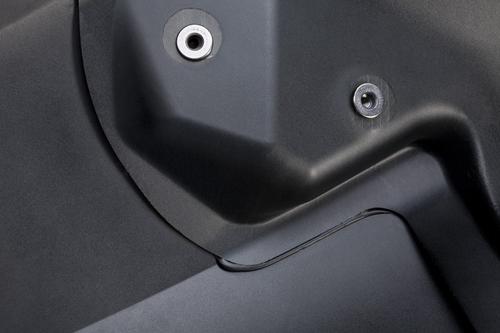 However, applying glue quickly and accurately is a challenge, especially when it is incorporated into an automated process. "In mass production, you need accurate and fast methods for applying glue, like dispensing a continuous ribbon or a bead versus applying it in spots," said Nidamarthi. The correct timing of mixing and application is important, and the temperature of heated glue must be carefully managed.
It is thus extremely important for the robots that apply the glue and their controllers to be accurate. To coordinate the speed of the robot and the speed and accuracy of glue dispensing, ABB is integrating dispensing controllers into a robot controller. The system simultaneously manages mixing, temperature, dispensing flow or glue volumes, and robot speeds so that the correct amount of glue is dispensed quickly in the right place. ABB has customers using this integrated dispensing system in automotive applications, and aerospace customers are conducting pilot research, Nidamarthi said.
Related posts:



More Blogs from Engineering Materials

1
A new service lets engineers and orthopedic surgeons design and 3D print highly accurate, patient-specific, orthopedic medical implants made of metal -- without owning a 3D printer. Using free, downloadable software, users can import ASCII and binary .STL files, design the implant, and send an encrypted design file to a third-party manufacturer.

39
A recent report sponsored by the American Chemistry Council (ACC) focuses on emerging gasification technologies for converting waste into energy and fuel on a large scale and saving it from the landfill. Some of that waste includes non-recycled plastic.

13
Capping a 30-year quest, GE Aviation has broken ground on the first high-volume factory for producing commercial jet engine components from ceramic matrix composites. The plant will produce high-pressure turbine shrouds for the LEAP Turbofan engine.

15
Seismic shifts in 3D printing materials include an optimization method that reduces the material needed to print an object by 85 percent, research designed to create new, stronger materials, and a new ASTM standard for their mechanical properties.

15
A recent study finds that 3D printing is both cheaper and greener than traditional factory-based mass manufacturing and distribution. At least, it's true for making consumer plastic products on open-source, low-cost RepRap printers.


LATEST ARCHIVED BROADCAST
For industrial control applications, or even a simple assembly line, that machine can go almost 24/7 without a break. But what happens when the task is a little more complex? That's where the "smart" machine would come in. The smart machine is one that has some simple (or complex in some cases) processing capability to be able to adapt to changing conditions. Such machines are suited for a host of applications, including automotive, aerospace, defense, medical, computers and electronics, telecommunications, consumer goods, and so on. This discussion will examine what's possible with smart machines, and what tradeoffs need to be made to implement such a solution.



Datasheets.com Parts Search
185 million searchable parts
(please enter a part number or hit search to begin)