Researchers in Malaysia have developed a bio-based composite material by substituting coconut fibers for traditional ceramic fibers in biocomposite tiles. The natural fibers improve the strength and stiffness of the composite materials and also reduce their weight.
The low density, high cellulose content, and abundance of coconut shell fibers, make them popular in Southeast Asia and other areas for a number of rope, fiber, and textile applications. Other advantages of using the fibers of coconut coir include its toughness, low density, low cost, and biodegradability. Several different types of biocomposites already exist, including those composed of biodegradable plant-based or animal-based natural fibers, such as flax, jute, silk, or wool.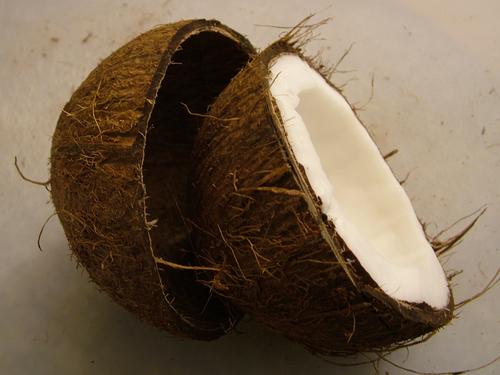 Professor Suhaimi Muhammed of the Universiti Teknologi Mara (UiTM) Pahang in Malaysia and his colleagues Amran Shafie and Noorshashillawati Azura Mohammad from the faculty of applied sciences took long fiber bundles of coconut coir derived from coconut husks and combined them with fiberglass. Then they bonded the resulting composite further with a gel coat of acrylic resin.
When this biocomposite material was tested for dimensional stability, it exhibited very low water absorption rates of less than 3 percent and low thickness swelling of less than 1 percent. These results lead Suhaimi's team to suggest that plant-based fibers may be used as reinforcement in a composite system to improve the properties and performance of polymer matrix resins. The improved strength and stiffness, in addition to the lower weight, of natural fibers can make the composite tiles useful in vehicle plates, some industrial applications, and for walls and floors in construction.
Another result was a manufacturing method for producing the tiles that the team expects will benefit small-scale entrepreneurs as well as coconut growers. The researchers developed a portable biocomposite press that will let entrepreneurs invent and create their own biocomposite materials.



More Blogs from Engineering Materials

3
A new service lets engineers and orthopedic surgeons design and 3D print highly accurate, patient-specific, orthopedic medical implants made of metal -- without owning a 3D printer. Using free, downloadable software, users can import ASCII and binary .STL files, design the implant, and send an encrypted design file to a third-party manufacturer.

39
A recent report sponsored by the American Chemistry Council (ACC) focuses on emerging gasification technologies for converting waste into energy and fuel on a large scale and saving it from the landfill. Some of that waste includes non-recycled plastic.

13
Capping a 30-year quest, GE Aviation has broken ground on the first high-volume factory for producing commercial jet engine components from ceramic matrix composites. The plant will produce high-pressure turbine shrouds for the LEAP Turbofan engine.

15
Seismic shifts in 3D printing materials include an optimization method that reduces the material needed to print an object by 85 percent, research designed to create new, stronger materials, and a new ASTM standard for their mechanical properties.

15
A recent study finds that 3D printing is both cheaper and greener than traditional factory-based mass manufacturing and distribution. At least, it's true for making consumer plastic products on open-source, low-cost RepRap printers.


LATEST ARCHIVED BROADCAST
For industrial control applications, or even a simple assembly line, that machine can go almost 24/7 without a break. But what happens when the task is a little more complex? That's where the "smart" machine would come in. The smart machine is one that has some simple (or complex in some cases) processing capability to be able to adapt to changing conditions. Such machines are suited for a host of applications, including automotive, aerospace, defense, medical, computers and electronics, telecommunications, consumer goods, and so on. This discussion will examine what's possible with smart machines, and what tradeoffs need to be made to implement such a solution.



Datasheets.com Parts Search
185 million searchable parts
(please enter a part number or hit search to begin)