You can design products in a CAD program, or you can 3D scan an existing object to generate a CAD file for 3D printing. You can also upload an .STL file to various sites to get it printed and shipped, or use a content creation site such as Cubify where you don't have to be an engineer to turn a photo into a 3D-printed object.
But what if you could 3D scan and copy objects and fax your files as well as 3D print them -- using only one machine? After Oct. 4, you'll be able to buy a multifunction 3D scanner/printer/copier/faxer when AIO Robotics' Zeus -- which reached its initial Kickstarter funding goal in under 24 hours -- becomes available, for a minimum pledge of $1,999 (no longer available). For $2,499 you can get a guaranteed printer from the first two batches to be delivered in July or August 2014.
Aimed at small businesses and consumers, the Zeus is equipped with proprietary artificial intelligence (AI) that automatically scans and reproduces objects using features like auto-leveling and auto-calibration. Co-founders Jens Windau and Kai Chang spent five years developing the machine as doctoral students at the University of Southern California Viterbi School of Engineering, according to a press release.
Click on the image below to check out Zeus.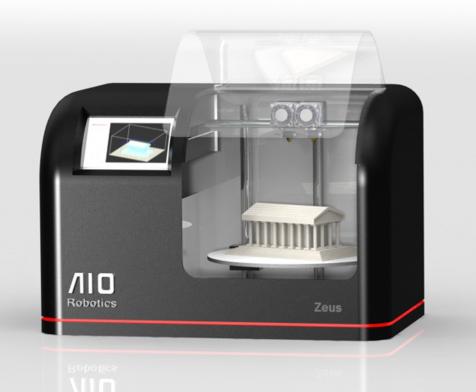 They designed the machine for low-end desktop 3D printing jobs, such as prototypes, models, and reproducing household objects, toys, or jewelry. Perhaps its most important function is the machine's ability to fax files of scanned 3D objects from one Zeus to another, and to automatically adjust the printer's setting to receive incoming files to be printed.
You can watch a video on their Kickstarter page here, where they talk about the machine. The Kickstarter page says faxing will occur over "an online secure connection." Users can also print 3D models from an online source such as Cubify, from a 3D scanner, or from a CAD program that creates .STL files.
With a print layer resolution of 100 microns and options of 200 and 300 microns, the printer's build volume is 26 cm x 18 cm x 15 cm (10.2 x 7 x 5.9 inches). It has a 7-inch color display and a simplified user interface. All of its linear components are made from aluminum via CNC machining; the frame is also aluminum. Material compatibility is 1.75 mm PLA. AIO Robotics is investigating other materials, such as ABS, nylon, and polycarbonate. The multifunction machine will be built by Lite-On Technology, a manufacturer of 2D printers and scanners.
The Zeus's 360-degree turntable lets the object be scanned at 125 micron resolution from several sides via an HD camera and a swiping laser to produce more than 800 scans per object. The design team says it chose this type of laser over a static laser system so fine textures and edges of an object can be captured. It also chose a 12 mm rod for the gantry system to make it more robust, increasing stability and making printing both fast and precise. Scan speed varies from 5 to 30 minutes. Printing occurs on the same bed as scanning. In the machine's integrated auto-bed leveling system, a software program uses AI to detect uneven surfaces and automatically compensate for them.
You can watch a video here discussing its auto-leveling function. Software also fills in missing data and repairs broken mesh in a 3D model to avoid the need for manual correction.
An optional cloud service will accelerate processing of 3D scanning and printing data by the machine's 1.7 GHz quad-core ARM-based CPU. A proprietary software package comes with the Zeus, including all necessary applications. Developers will be given an open-source API that will provide access to the machine's sensors and motors so users can experiment with tweaking the Zeus's performance.
It's small, the objects it scans and prints are small, and the resolution is low. But my guess is, this is the first in a wave of machines and technologies, many of them being created in university labs, that combine 3D printing with other functions.
Related posts: